REPORT WRITING
by Nicolas Del Castillo Parra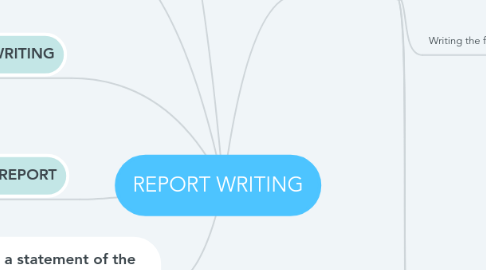 1. A report is a statement of the results of an investigation or of any matter on which definite information is required.
2. DIFFERENT TYPES OF REPORT
2.1. laboratory reports, technical reports, reports of a work placement or industrial visit, reports of a field trip or field work.
3. STAGES
3.1. Clarifying your terms of reference
3.1.1. are a guiding statement used to define the scope of your investigation.
3.2. Planning your work
3.2.1. will help you to write a clear, concise and effective report, giving adequate time to each of the developmental stages prior to submission.
3.3. Collecting your information
3.3.1. You may have much of the information you need already such as results from a laboratory experiment or descriptions of your methods of data collection.
3.4. Organising and structuring your information
3.4.1. One helpful way of organising your information into topics is to brainstorm your ideas into a 'spider diagram.
3.5. Writing the first draft
3.5.1. Title page
3.5.1.1. This should include the title of the report
3.5.2. Acknowledgements
3.5.2.1. You should acknowledge any help you have received in collecting the information for the report
3.5.3. Contents
3.5.3.1. You should list all the main sections of the report in sequence with the page numbers they begin on
3.5.4. Abstract or summary
3.5.4.1. This should be a short paragraph summarising the main contents of the report
3.5.5. Introduction
3.5.5.1. This should give the context and scope of the reportand should include your terms of reference
3.5.6. Methodology
3.5.6.1. In this section you should state how you carried out your enquiry
3.5.7. Results or findings
3.5.7.1. Present your findings in as simple a way as possible.
3.5.7.1.1. • Tables • Graphs • Pie charts • Bar charts • Diagrams
3.5.8. Discussion
3.5.8.1. This is the section where you can analyse and interpret your results drawing from the information
3.5.9. Conclusion and recommendations
3.5.9.1. This is the section of the report which draws together the main issues
3.5.10. References
3.5.10.1. Details should include : • author's name and initials • date of publication • title of the book, paper or journal • publisher • place of publication • page numbers • details of the journal volume in which the article has appeared.
3.5.11. Appendices
3.6. Checking and re-drafting.
3.6.1. Once you have written the first draft of your report you will need to check it through.
3.7. Summary
3.8. Checklist
4. STYLE OF WRITING
4.1. Active or passive?
4.2. Simplicity
4.3. Use of language
5. Layout
5.1. Most reports have a progressive numbering system. The most common system is the decimal notation system.
6. PRESENTATION
6.1. • Leave wide margins for binding and feedback comments from your tutor. • Paragraphs should be short and concise. • Headings should be clear - highlighted in bold or underlined. • All diagrams and illustrations should be labelled and numbered. • All standard units, measurements and technical terminology should be listed in a glossary of terms at the back of your report. Presentation