TEACHING VARIBILITY
by Laura Machin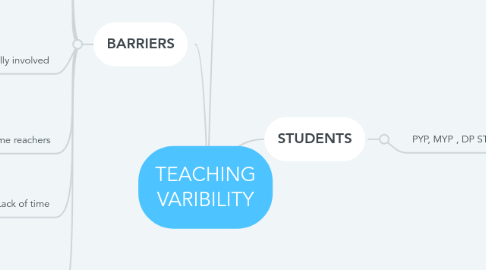 1. STUDENTS
1.1. PYP, MYP , DP STUDENTS
1.1.1. LEARNING SUPPORT
1.1.1.1. Students with Special Educational Needs (SNEs) not associated with disabilities
1.1.1.2. Students whose academic performance is affected from one moment to the next by short or prolonged school absences due to health problems or illness and hospitalization situation
1.1.1.3. Students belonging to any national team.
1.1.1.4. Neurodevelopmental disorders, such as: Attention Deficit Hyperactivity Disorder (ADHD), Specific Learning Disorders: Dyslexia, Dyscalculia, Dysgraphia, Misspell, Learning Problems; Communication disorders (TEL), Tourette, behavioral disorders
1.1.2. INCLUSION PROGRAM
1.1.2.1. Students with mental health problems (bipolar disorder, depression, dissocial disorder, self-harm, post-traumatic stress disorder.hg
1.1.2.2. Students with Special Educational Needs (SNEs) associated with mild or moderate disabilities, such as: Physical - Motor, Auditory, Visual, Intellectual and Autism Spectrum Disorder.
1.1.3. GIFTED STUDENTS
1.1.3.1. Aimed at students who have outstanding academic performance, talent or gifted.
2. BARRIERS
2.1. Language of instruction
2.1.1. English
2.1.2. French
2.2. Lack of profesionals on the topoc
2.2.1. More students
2.3. National Curriculum to develop
2.3.1. High exopectations
2.3.2. Non differenciated
2.4. Lack of support from school board
2.4.1. Don´t understand it much
2.4.2. Non finantial support
2.4.3. Non much training for all
2.5. Parents are not fully involved
2.5.1. Lack of knowledge on the diagnosis
2.5.2. Prejudices
2.5.3. Comparisons
2.5.4. High expectarions
2.6. Narrow.minded of some reachers
2.6.1. Dont´develop differenciated assigments
2.7. Lack of time
2.7.1. Non differenciated planning
2.7.2. Non differenciated assesment
2.7.3. Non differenciated curriculum
2.8. How the materials are presented
2.8.1. Too repetive
2.8.2. Non variaty
2.8.3. Don´t attend learing styles
3. RESPONSIBLES
3.1. School staff
3.2. School board
3.3. Parents
3.4. Education government staff
3.5. Students