Linguistic Anthropology : is the study of how language interacts interacts with and shapes social structures and culture
by Alejandra Adame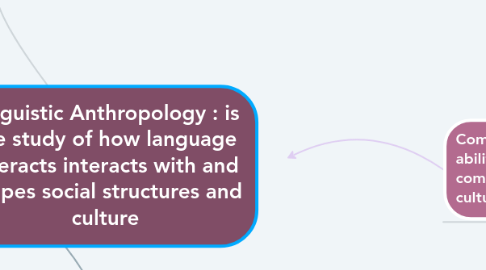 1. Kinship terms : One way cultural values are reflected in language
2. Gender: Brother vs Sister , Father vs Mother
3. Generation: daughter, mother, grandmother,etc.
4. Line: direct lineage - mother, son vs colateral lineage - aunt nephew
5. Communicative competence: the ability to interact and communicate according to cultural norms.
6. Politeness: what is consider polite or impolite is considered culturally determined
7. speaker rules : We speak differently when chatting with a group of friends, than when meeting one-on-one with a teacher.
8. Turn-taking rules : speakers alternate turns fairly frequently , how long we wait to begin talking after another speaker has finished speaking is an aspect of speech culturally determined
9. tag questions: "It's kind of hot in here, is in it?"
10. adjacency pairs:"how are you?" is usually respond by fine\good\all right
11. Greetings : are sequences that frequently occur in the form of adjacency pairs
12. Indexicallity: the study of a sign pointing to an index