Slothy Sunday: I spy with my little eye… Sloths in sight!
by Valerie Loaiza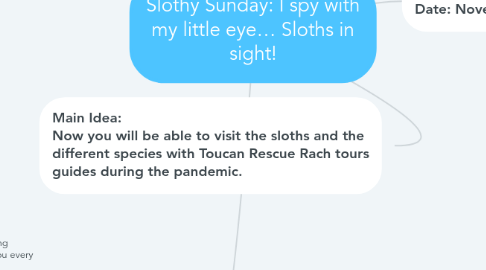 1. Summary
1.1. The Toucan Rescue Rach is sharing amazing tours about sloths for you every Sunday throughout the Covid-19 pandemic, after closing for eight long months to the public.
1.2. As of Saturday, November 14, you can join LIVE tours with up to seven of your best friends or social bubble and you can get about 30% discount on every educational walk.
1.3. During this walk, our experienced tour guides will tell you interesting facts about each species, including macaws, parrots, owls, sloths, spider monkeys and more.
1.4. You will enjoy learning about the young sloths in our care as they do their morning workouts, eat breakfast, and sometimes even go to the toilet!
1.5. This is a truly special experience for sloth lovers like yourself. Not only you can enjoy this experience in face to face tours, but also If perhaps you are not ready to go outside, we have the perfect stay-at-home alternative from your comfortable own couch.
1.6. They currently offer a lot of virtual experiences and right now, you can get Black Friday promotions on all the virtual tours.
1.7. Finally, they assure you these educational experiences will make you fall in love with sloths and the amazing fauna of Costa Rica!
2. Author: Mariana Diaz Date: November 22, 2020
3. Main Idea: Now you will be able to visit the sloths and the different species with Toucan Rescue Rach tours guides during the pandemic.