Effective Schools and Classrooms for Bilingual Students
by Michael Elving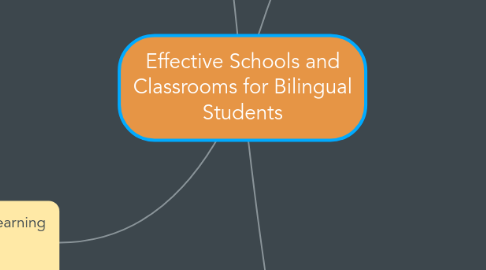 1. First Language Development at School
1.1. Securing the Minority Language
1.1.1. Bilingual schools can help develop the minority language so it can be used in more situations
1.1.1.1. Reading
1.1.1.2. Writing
1.1.1.3. Employment Preparation
1.2. Codeswitching in the Classroom
1.2.1. Common in bilingual classrooms
1.2.1.1. Used to explain key terms in the majority language
1.2.2. Formal/Informal
1.3. Translanguaging and Transliteracy
1.3.1. Strategic Language Planning
1.3.2. Using two or more language per lesson instead of designated times to use different languages
1.4. Cultural Awareness
1.4.1. Very important to use the students home language to help them transition from home to school
1.4.1.1. Self-Esteem
1.4.1.2. Achievement
1.4.2. Cultural Rituals
1.4.2.1. Authentic visual and written material
1.4.2.2. Talk about cultural variations
2. Monolingual Schools and Classes
2.1. Majority Language Development in Monolingual Schools
2.1.1. Native majority language speakers progress at a much faster rate than minority language speakers that are not as proficient as their counterparts in the majority language.
2.1.2. Students with no education in their first language can take 7 to 10+ years to reach the language ability of their peers.
2.1.2.1. Students with 2-3 years of education in their first language can take between 5-7 years to reach the level of native speaker level.
2.2. They have tried to make up for the lack of bilingual educators by hiring bilingual teaching assistants.
2.2.1. The assistants work under mainstream educators.
2.3. Teachers and Bilingual Support Assistants
2.3.1. There is often a shortage of teachers who are trained to work with bilingual students.
2.4. Scaffolding Language
2.4.1. When the teacher uses comprehensible second language to help the student learn.
2.4.2. Also known as sheltered instruction.
2.4.3. Temporary device to help students understand content.
2.4.3.1. This can be spontaneous to fit the child's immediate need and the occasion.
2.4.4. Use of translanguaging.
3. Language Teaching and Learning in Bilingual Immersion Classrooms
3.1. Main Classroom Features of Bilingual Classrooms
3.1.1. The minority language has the tendency to only be used in the classroom.
3.1.2. There is usually a tendency to separate languages during instruction vs. mixing them.
3.1.3. It is also important for the teacher and faculty to show enthusiasm for the immersion education.
3.2. Language Strategies in Immersion Classrooms
3.2.1. The teacher needs to be aware of the students vocabulary and grammar.
3.2.1.1. This is to make sure the child can understand and help to push the student's ability.
3.2.2. Caretaker Speech
3.2.2.1. This is the language used in the early stages of the child's development in school.
3.2.2.2. This method can be similar to how a mother talks to a child.
3.2.3. Teacher needs to be aware of the student's understanding.
3.2.3.1. Body language can help the teacher know that the student is not understanding, that is why it's important for the teacher to pay attention to the student.
3.2.4. Teachers are discouraged from over-correcting in this type of learning environment.
4. Key Topics in Effective Bilingual Schools
4.1. Staffing
4.1.1. Teachers
4.1.1.1. They have to be positive towards the students' language and cultural backgrounds.
4.1.1.2. Bilingual teaching is often harder than monolingual teaching.
4.2. Staff Goals
4.2.1. Diversity
4.2.2. Training to teach in more than one language
4.2.3. Need to be committed to the empowerment of language minority students through education.
4.2.3.1. Extra-curricular activities
4.2.3.2. Community events
4.3. Intake of Students and Language Balance
4.3.1. A proper balance of majority and minority language speaking students has been an issue.
4.3.1.1. This problem can cause the majority language to dominate.
4.4. Teacher Personal development and Training
4.4.1. Teachers need training to become aware of cross-language influence.
4.5. Leadership
4.5.1. Provide Culturally Appropriate Programs
4.6. Curriculum
4.6.1. Language Competence
4.6.2. Inclusive Teaching Material
4.6.2.1. Helps to enhance the chances of students from marginalized backgrounds to learn effectively.
4.7. Supportive Ethos and Environment
4.7.1. Locally recruited bilingual teaching assistants
4.7.2. A socioculturally supportive environment is important when the minority language student prejudice and discrimination
4.7.2.1. This helps the student feel like they belong and that they are cared for.