Imperialism: Crash Course World History
by MANUELA PEREZ ZAMORA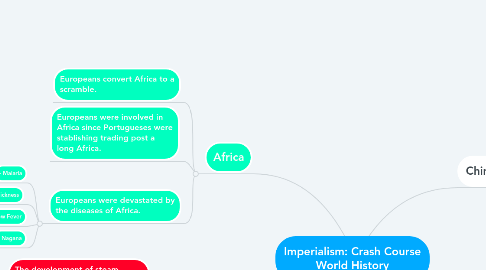 1. China
1.1. Was being invaded by Europeans (Specially Britains)
1.2. In 1793 McCartney tried to obtain better commercial conditions for China and it was a total failure.
1.3. Start to sell Opium to balance their economy.
1.3.1. Create lots of drugs adicts.
1.4. Huge importer of silver to Spain.
1.5. They finally signed the Nanjing Treaty.
1.5.1. Britain got Honk Kong seaport and some other seaports and lots of money.
1.6. Taiping Rebelion
1.6.1. Was a horrible war which lead to Britain became the dominant economic power in China.
2. What is Imperialism?
2.1. Is a system based on ideas of superiority and aply practices of domination.
3. Main Empires
3.1. - Britain
3.2. - France
3.3. - Germany
3.4. - Italy
4. Africa
4.1. Europeans convert Africa to a scramble.
4.2. Europeans were involved in Africa since Portugueses were stablishing trading post a long Africa.
4.3. Europeans were devastated by the diseases of Africa.
4.3.1. - Malaria
4.3.2. - Sleeping Sickness
4.3.3. - Yellow Fever
4.3.4. - Nagana
5. Technology
5.1. The development of steam powered ships helped Europeans seeking to extend their lands in Africa and Asia.
6. 19th Century
6.1. Motivations
6.1.1. - Political
6.1.2. - Economic
6.1.3. - Technical
6.1.4. - Ideological
6.2. Consequences
6.2.1. - Mother Countries
6.2.2. - Colonies