UN WOMEN
by Camila Pozos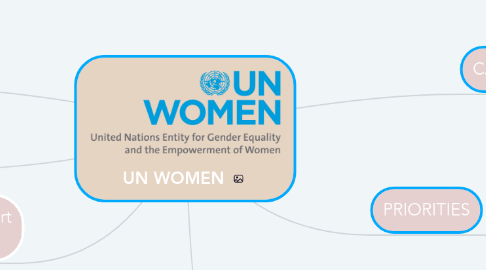 1. KEY MEMBERS
2. -FEDERAL DEMOCRATIC REPUBLIC OF ETHIOPIA. -FEDERAL REPUBLIC OF NIGERIA. -FEDERATIVE REPUBLIC OF BRAZIL. -ISLAMIC REPUBLIC OF AFGHANISTAN. -ISLAMIC REPUBLIC OF IRAN. -REPUBLIC OF IRAQ.
2.1. -REPUBLIC OF UGANDA. -REPUBLIC OF YEMEN. -REPUBLIC OF YEMEN. -RUSSIAN FEDERATION. -UNITED MEXICAN STATES. - UNITED STATES OF AMERICA. -KINDOM OF SAUDI ARABIA.
3. CAPABILITIES
3.1. ECONOMIC EMPOWERMENT.
3.1.1. Ending violence against women.
3.1.2. HUMANITION ACTION.
3.1.3. LEADERSHIP AND POLITICAL PARTICIPATION.
3.1.4. GOVERNANCE AND NATIONAL PLANNING.
3.1.5. DEVELOPING GENDER RESPONSIVE NATIONAL ASSESSMENT CAPACITY.
4. PRIORITIES
4.1. PROTECTING THE WELLBEING OF TRANS WOMEN AND FEMALE MINORITY GROUPS.
5. Which organ of the UN is it part of?
5.1. ECOSOC COMMITTEES.
6. Any other pertinent information:
6.1. FORMATION 2 JULY 2010; 10 YEARS AGO.
6.1.1. TYPE: UN ENTITY.
6.1.1.1. Headquarters New York City, United States.
6.1.1.1.1. Official languages 4.