INITIAL IDEAS
by Maliha R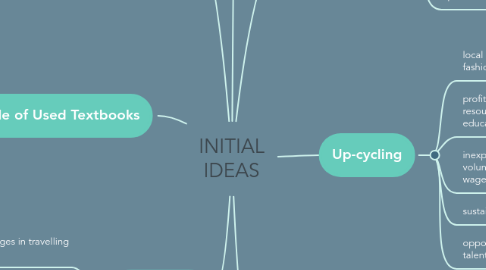 1. Face Masks
1.1. COVID-19 pandemic
1.1.1. prevalent, easy to market
1.1.2. however, vaccine on the way and most people have masks already
1.2. Face masks made from recycled material e.g. from charity shops
1.2.1. Environmental advantage
1.3. Manufactured by those who lost job in pandemic
1.3.1. Costs needed to employ/train/provide resources
2. Up-cycling
2.1. local youth up-cycle old materials into fashionable clothing, jewelry etc
2.1.1. items to be sold at event. funds needed to hire area/stall etc
2.2. profit made for funding for school resources in deprived areas to encourage education
2.3. inexpensive - youth will participate as volunteers for the experience rather than wage. little to no costs for materials
2.3.1. not widely available, more local so limits profit unless online website
2.4. sustainable fashion - environmental factor
2.5. opportunity for young people to showcase talent and have fun
3. Feminine Hygiene Products
3.1. reusabale pads made from recycled material
3.2. profit made goes to manufacturing product/manufacturers and rest as donation to end period poverty
3.3. sell online
3.4. environmental advantage
3.5. health and safety regulations for materials used
4. Workshops
4.1. experts in individual fields host virtual workshops at a fee
4.1.1. good way to connect people with similar interests especially during COVID
5. Re-sale of Used Textbooks
5.1. Used/old textbooks donated and either resold or donated to students in other less developed countries
5.2. profits are used for school and any remaining funds are used to support social programs in developing communities.
5.3. how many people have textbook to give? many may borrow from school or library. also easily available as online pdf
6. Cafe
6.1. underemployed groups, such as homeless,at-risk youth or former drug addicts work at cafe
6.1.1. focuses on building their employment skills for hopeful future job prospects, rather than wage
6.2. funds needed for building
6.2.1. profit from sales of food and beverage go to wages, training, and social betterment programs for the staff-beneficiaries.
7. Food Truck
7.1. selling food and beverages in travelling food truck
7.1.1. money made to feed homeless and help for free school meals
7.2. advertising for good cause on truck and information to potential customers as encouragement
7.2.1. sell in busy areas such as town where people may be looking for a quick meal to eat whilst browsing
7.3. funds needed for truck, food and workers
7.3.1. health and safety regulations for food