1. Why Study Communication? 2. What do you hope to learn/gain from this class?
by tara raue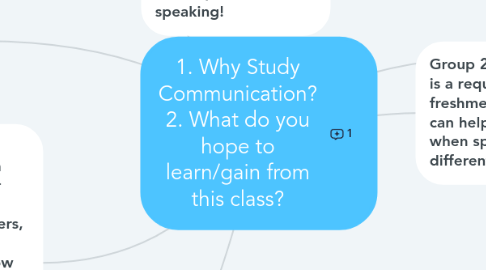 1. 1) We need to learn communication in order to know how to speak in certain situations. 2) We hope to gain confidence when speaking, learn to speak better in front of large groups of people, be confident in what we say in important situations, and overall better public speaking!
2. Group 3: 1. Communications helps foster a better understanding of those around you. 2. We hope to become more confident when speaking to new people and in front of groups
3. Group 2: Communications 101 is a required course for LA Tech freshmen. We think this course can help us build confidence when speaking in public and different situations.
4. Group 4. 1-Communication is going to help us in all of our classes because it is a key component of all majors, and is important to all careers. 2- I hope to get better at public speaking.
5. Group 1: 1. We study communication because we will all use this skill in any career path we choose. 2. In this class, we hope to gain confidence in public speaking and talking to others in general.
6. Group 6: 1.) We study communication to gain confidence and further knowledge on how to communicate with others, speak in front of an audience, and learn how to work with others in order to complete a task. 2.) We hope to use our obtained knowledge from this course in our every day lives.