This essay seeks to argue points of agreement and contradictions between the design of the "Lasalle School of the Built Environment" and the key concepts of Paul Virilio from the text "The Overexposed City"
by Joshua Goh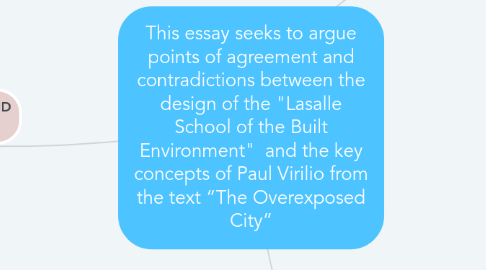 1. TECHNOLOGY AND ITS EFFECTS ON ARCHITECTURE
1.1. WILL ARCHITECTURE BE OBSOLETE WITH THE ADVANCEMENTS OF TECHNOLOGY?
1.1.1. GREEN POCKETS
1.1.1.1. Technology has not been able to replace green architecture. As humans are one with nature, the body finds comfort in proximity to plants, not the white glare of the screens that technology has moved towards
2. BYPASSING OF SPACE AND TIME
2.1. CAN TIME AND SPACE THRESHOLDS BE CROSSED?
2.1.1. ATRIUM
2.1.1.1. The atrium is the unifying centre of the building as classrooms and studios flank it. Different subjects and courses are covered in the different spaces. In some sense by gazing into a studio from below, the threshold of time can be crossed as one looks at the different space in a time of its own, engaging in their own bubble of a subject
2.1.2. FACADE AND GRID WORSHIP
2.1.2.1. The facade follows a frame like pattern that is encased in concrete. The building plan also follows a strict gridline with minimal deviation The formality of the pattern and the grid of the building pays homage to the brutalist architecture of the nearby plots and the law and order of the style However to transition to the international style buildings down the road, full height glass windows are installed. Hence the building sits in between two eras of architecture...
3. CONCEPT OF BOUNDARIES
3.1. ARE BOUNDARIES OF THE PRESENT NO LONGER TANGIBLE?
3.1.1. CURTAIN WALLS
3.1.1.1. Technically it is a physical boundary, but the full height glass changes the interaction between the outside and the inside The curtain wall blurs the boundary between spaces as people walking by can peer into the spaces behind it.
3.1.2. A SCHOOL FOR THE LAST, THE LOST AND THE LEAST
3.1.2.1. In my building, adult learners who seek to upskill themselves to stay competent and retrenched individuals work side by side with the young students who are yet to enter the workforce