PROTIST
by Miza Hamid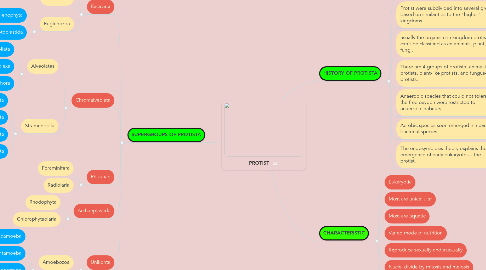 1. HISTORY OF PROTISTA
1.1. The term protista was first used Ernst Haeckel in 866
1.2. Protist were subdivided into several groups based on similarities to the "higher" kingdoms.
1.3. usually the organism in kingdom protista can't be classified as an animals, plant, or fungi.
1.4. There are 4 groups of protista: animal-like protists, plant-like protists, and fungus-like protists.
1.5. Anaerobic species that could not tolerate the free oxygen were restricted to anaerobic habitats.
1.6. Aerobic species soon emerged in nearly all bacterial species.
1.7. The endosymbiosis theory explains the emergence of early eukaryotes – the protist.
2. CHARACTERISTIC
2.1. Eukaryotic
2.2. Most are unicellular
2.3. Most are aquatic
2.4. Varied mode of nutrition
2.5. Reproduce sexually and asexually
2.6. Nuclei divide by mitosis and meiosis
2.7. Varied means of locomotion
3. SUPERGROUPS OF PROTISTA
3.1. Excavata
3.1.1. diplomonad
3.1.2. Parabasalid
3.1.3. Euglenozoa
3.1.3.1. Euglenophyta
3.1.3.2. Kinetoplastida
3.2. Chromalveolata
3.2.1. Alveolates
3.2.1.1. Dinoflagellata
3.2.1.2. Apicomplexa
3.2.1.3. Ciliophora
3.2.2. Stramenopila
3.2.2.1. Oomycota
3.2.2.2. Bacillariophyta
3.2.2.3. Chrysophyta
3.2.2.4. Phaeophyta
3.3. Rhizarian
3.3.1. Foraminifera
3.3.2. Radiolaria
3.4. Archaeplastida
3.4.1. Rhodophyta
3.4.2. Chlorophytaolaria
3.5. Unikonta
3.5.1. Amoebozoa
3.5.1.1. Gymnoamoeba
3.5.1.2. Entamoeba
3.5.1.3. Myxogastrida
3.5.1.4. Dictyostelida