Issues around using templates
by
H Truscott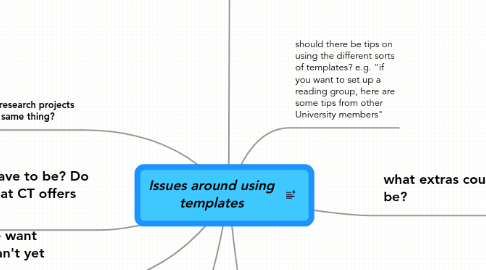 0.0
stars -
0
reviews range from
0
to
5
Issues around using templates
This is just a demo map that you can delete right away, if you feel like it...
how much guidance do we have to give? e.g. what if someone sets up a discussion forum without realising how much time it takes
what basics could there be?
"small research project"
"website"
"simple support for lecture course"
"simple support for supervisions"
"conference website"
reading group
student study group (from Umme's descriptions in the Academic Networking project)
collaborative writing project
administrative group
Get started!
Key shortcuts
do all research projects want the same thing?
sharing files
commenting on files
publicising their project
New node
what happens if people want things that CamTools can't yet offer?
How practical do we have to be? Do we need to stick to what CT offers now?
should there be tips on using the different sorts of templates? e.g. "if you want to set up a reading group, here are some tips from other University members"
what extras could there be?
ask for help / ideas from colleagues / people in the same field e.g. CTLH-1936
way to create your website offline in editor of your choice and then host it in CamTools? (Issue would be the menu) CTLH-15216