Ken Kerry 5 Questions To Help You Create Powerful Video Testimonials
by Sinan Sensivas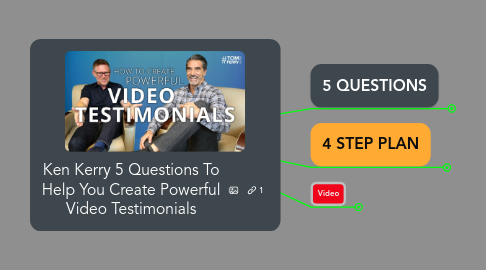 1. Video
1.1. 5 Questions to Help You Create Powerful Video Testimonials and Reviews | #TomFerryShow Episode 123
2. 5 QUESTIONS
2.1. 1. What fears did you have about buying or selling your home today?
2.1.1. This is a really important question for clients to answer.
2.1.2. You want clients talking about the pain points that bother them because those same issues will bother prospects just like them.
2.1.3. In effect, you're getting past clients to talk to future clients about how you solved their problem.
2.2. 2. What process did you use to select me to represent you?
2.2.1. You want to understand the process your past clients used when they decided to hire you.
2.2.2. If a lot of people are using the same process… hello!
2.2.3. That's where you need to be.
2.3. 3. What did I do differently from other agents you've worked with?
2.3.1. If you hear the same answer over and over again, that is your unique selling proposition or USP.
2.3.2. This is where you find your measurable degree of separation from the rest of your competition.
2.4. 4. How did I handle the process for you?
2.4.1. Prospects are looking for an agent they can trust.
2.4.2. This is one of the biggest investments they'll make in their lifetime and they need to trust the person handling the transaction.
2.5. 5. What would you say in recommending me to a friend?
2.5.1. Ask the client to describe how they would talk about you to a friend.
2.5.2. Make the question open-ended. We want them to answer in their own words and not in realtor-speak.
2.5.3. "Ask these five questions," says Ken, "and just listen intently because good sales is listening.
2.5.4. They will tell you – over and over again – why they would recommend you."
2.6. Video 5 QUESTIONS
2.6.1. 5 Questions to Help You Create Powerful Video Testimonials and Reviews | #TomFerryShow Episode 123
3. 4 STEP PLAN
3.1. 1. Decide what kind of customer you want to attract.
3.1.1. Do you want buyers? Sellers?
3.1.2. Find 3-5 past clients who represent the kind of customer you want and ask them for a testimonial.
3.1.3. For example, ask your past "For Sale by Owner" client to do a FSBO-related testimonial
3.2. 2. Record the testimonial on video.
3.2.1. Capture the testimonial on video.
3.2.2. Use your smartphone (remember to record horizontally), video chat (Google Hangouts, Skype, Zoom, etc.) or any HD camera available to you.
3.3. 3. Ask all 5 questions.
3.3.1. Let your clients talk and talk.
3.3.2. Just get the information now and worry about editing later.
3.4. 4. Incorporate video clips into your marketing campaign.
3.4.1. Take small segments of your recorded videos and build your marketing campaigns around them.
3.4.2. You could use them on Instagram and Facebook, pepper them over your website and include them in your follow-up campaigns.
3.4.3. The beauty of video testimonials is that you can speak directly to your client's pain points, and have your past clients do the selling for you!
3.4.4. All you have to do is ask the right questions and record the answers!
3.5. video FOUR STEP PLAN
3.5.1. 5 Questions to Help You Create Powerful Video Testimonials and Reviews | #TomFerryShow Episode 123