CHAPTER 8 : SOIL POLLUTION
by AIDA ZOLKIPLEE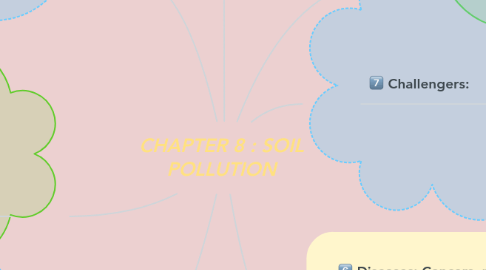 1. Definition- SP is defined as the build-up in soils of persistent toxic compounds, chemicals, salts, radioactive materials/disease causing agents, which have adverse effects on plant growth & animals health.
2. Causes: Anthropogenic (Mining activities, Agricultural activities) and Natural ( Natural accumulation of compound in soil, leaks from sewer lines into subsurface)
3. Sources: Industrial activities, acid rain, solid wastes, agricultural activities & accidental oil spills
4. Effects: Effect on health of human ( cancer, lungs, kidneys, nervous system ), effect on growth of plants, decreased soil fertility and changes in soil structure.
5. Main soil pollutant: Lead (Pb), Mercury (Hg), Arsenic (As), PAH (polyaromatic hydrocarbons), others metals such as Mn,Cd,Cu,etc, Herbicides/Insecticides
6. Diseases: Cancers, nervous system damage, neuromuscular blockage & depression of the central nervous system, kidney & liver damage
7. Challengers:
7.1. Key concern: Complex pollution leachate mixtures from mismanaged and uncontrolled dumpsites. Pesticides and antimicrobial drugs in crop and livestock productions. Pollution from abandoned industrial sites, armed conflictzones, nuclear power stations, pesticide stockpiles, wastelandfills - part of a longer-term legacy
7.2. Critical gaps: Implementation gaps, knowledge gaps, infrastructure gaps, limited leadership(financial & industry), mispricing invisibility of ecosystem services and lack of recognition of consequence of consumer choices