ANTIEMETICS🤮
by salma halshana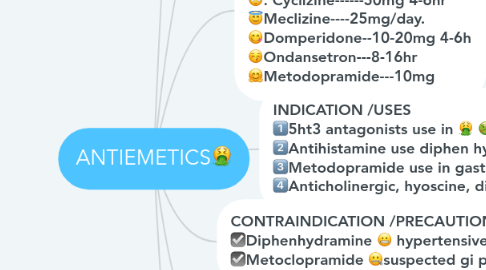 1. CLASSIFICATION 😊...1-Ondansetron 2-Granisetron-----5ht3 antagonists 3-Dolasetron 😘1-domperidone 2-Olanzapine-----prokinetics /dopamine antagonist 3-Metoclopramide 😔.hyoscine and dicyclomine----anticholinergics 😇. 1-cyclizine 2-Diphenhydramine 3-Medozine--------antihistamines 4-Promethazine 5-Hydroxyzine
2. MECHANISM OF ACTION 😘. 5HT3 Antagonists =they block serotonin receptors in cns and gi tract. 🤩PROKINETICS(dopamine antagonists) =block dopamine neurotransmitter, promote gi motility. 😎ANTIHISTAMINES=block the histamine neurotransmitters, effect on 🤮 center. 😆ANTICHOLINERGICS= block neurotransmitter acetyl choline in cns and pns.
3. DRUGS AND DOSES 😘. HYOSCINE ===200-600(sc). 😎. Diclomine-----40mg 6hr. 🙄. Cyclizine------50mg 4-6hr 😇Meclizine----25mg/day. 😋Domperidone--10-20mg 4-6h 😚Ondansetron---8-16hr 🤗Metodopramide---10mg
4. INDICATION /USES 1️⃣5ht3 antagonists use in 🤮 🤢 2️⃣Antihistamine use diphen hydrazine use for motion sickness and morning sickness. 3️⃣Metodopramide use in gastric emptying. 4️⃣Anticholinergic, hyoscine, dicyclomine, use in travel sickness.
5. CONTRAINDICATION /PRECAUTIONS ☑️Diphenhydramine 😬 hypertensive patients ☑️Metoclopramide 🤐suspected gi problem
6. ADVERCE EFFECTS 1️⃣HYPOTENTION 2️⃣CONTIPATION 3️⃣DRYNESS OF MOUTH 4️⃣BLURRED VISSION 5️⃣PAIN IN IM INJEC. SITE 6️⃣DROWSINESS 7️⃣RECTAL IRRITATION 8️⃣PHOTO SENSITIVITY REACTION
7. NURSING RESPONSIBILITIES ❤️assess nausea, 🤮, fluid and electrolyte imbalance. ❤️Creatinine is ⬇️40ml/min use metoclopramide⬇️dose ❤️🤐No alcohol