"How does architecture express dematerialization, through the usage of choice/opacity of materials?"
by calista lim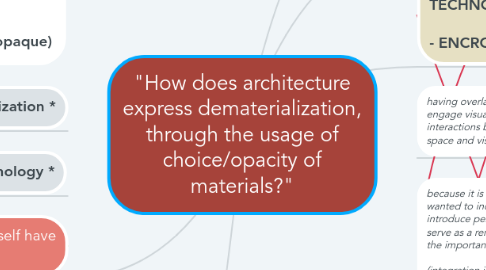 1. BOUNDARY - TANGIBLE/INTANGIBLE
2. GATES - NON-PHYSICAL
3. ADVANCEMENT IN TECHNOLOGY - ENCROACHMENT OF SPACES
4. having overlapping spaces to engage visual and physical interactions between users of the space and visitors of the space.
5. because it is an arts district, wanted to incorporate and introduce performance arts ti serve as a reminder to society on the importance of theatrical arts. (integration into existing arts culture on site)
6. using light and shadows to enhance and create different/unique experiences for the students; enabling them to learn in unconventional ways as well.
7. incorporating views of various angles and levels to relate back to the design's starting point of public performance.
8. threshold (technology) *
9. invasion of privacy
10. materiality/opacity *
11. effects: - tracked - privacy
12. blurring of boundaries *
13. circulation: - flows - circulation controlled? - privacy/publicity? - techniques? - porosity (transparent/opaque)
14. dematerialization *
15. technology *
16. "How enclosures in itself have changed?"
17. privacy, security
18. tension of the space (light & shadow) *
19. optics (technology) - windows - doors - screens
20. "Can a school prosper without optics and technology in this current day and age?" (Difficulties in traditional teaching etc.)