Help! I'm a teacher and I have to quarantine!
by Steve Miller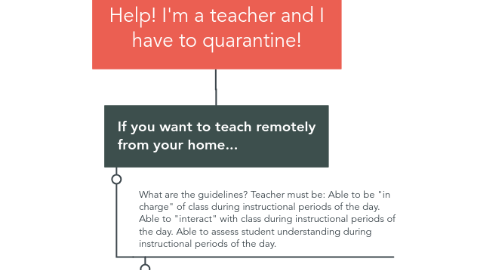 1. If you want to teach remotely from your home...
1.1. What are the guidelines? Teacher must be: Able to be "in charge" of class during instructional periods of the day. Able to "interact" with class during instructional periods of the day. Able to assess student understanding during instructional periods of the day.
1.1.1. Contact Becky Breiby at the unit office to inform her that you are in quarantine and will be teaching remotely. Also, contact Steve Miller ([email protected]/309-269-5396) immediately for set up. There are technology tools available including classroom conference cameras, document cameras, speakers, microphones, and additional chromebooks. Steve will make sure your room is functioning adequately for your remote instruction.
1.1.1.1. Sub chromebooks are available at each building. Contact your main office if you are in need of a sub chromebook.
1.1.1.1.1. Sub chromebook info- Sub chromebooks are for the sub teacher in your classroom. Each sub chromebook has it's own gmail address. Example: if the sub chromebook is labeled "sub2" then the gmail login would be [email protected] The password will be provided with the chromebook for your sub teacher.
1.1.1.1.2. Desktop- If your sub is using your teacher desktop please have them log in using a sub gmail address.