ADDIE Mind Map
by Kathleen Martin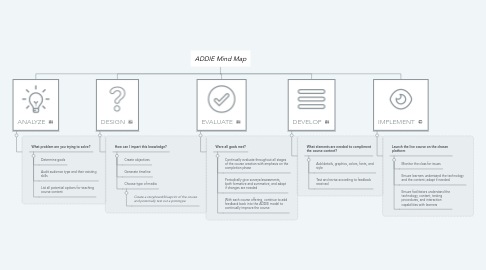 1. EVALUATE
1.1. Were all goals met?
1.1.1. Continually evaluate throughout all stages of the course creation with emphasis on the completion phase
1.1.2. Periodically give surveys/assessments, both formative and summative, and adapt if changes are needed
1.1.3. With each course offering, continue to add feedback back into the ADDIE model to continually improve the course
2. ANALYZE
2.1. What problem are you trying to solve?
2.1.1. Determine goals
2.1.2. Audit audience type and their existing skills
2.1.3. List all potential options for teaching course content
3. DEVELOP
3.1. What elements are needed to compliment the course content?
3.1.1. Add details, graphics, colors, fonts, and style
3.1.2. Test and revise according to feedback received
4. IMPLEMENT
4.1. Launch the live course on the chosen platform
4.1.1. Monitor the class for issues
4.1.2. Ensure learners understand the technology and the content; adapt if needed
4.1.3. Ensure facilitators understand the technology, content, testing procedures, and interaction capabilities with learners
5. DESIGN
5.1. How can I impart this knowledge?
5.1.1. Create objectives
5.1.2. Generate timeline
5.1.3. Choose type of media
5.1.3.1. Create a storyboard/blueprint of the course and potentially test out a prototype