CV Natalia Yurevich [email protected] ✆ +33 6 33 35 59 60
by Natalia Y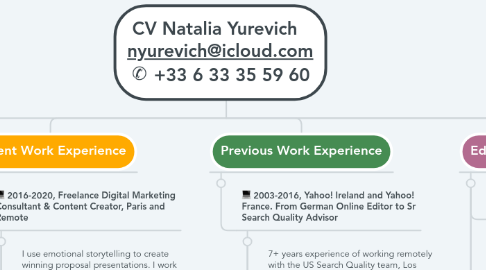 1. Profile
1.1. Natalia Yurevich, Paris, France
1.2. I am a passionate storyteller, always working to combine the creative and the analytical. Adept at supporting cross-functional teams, I am experienced in delivering digital projects on time and budget. I am a positive and flexible team player who meets stringent briefs and can be counted on to come up with delightful solutions.
2. Recent Work Experience
2.1. 2016-2020, Freelance Digital Marketing Consultant & Content Creator, Paris and Remote
2.1.1. I use emotional storytelling to create winning proposal presentations. I work with data, customer insights, and industry best practices to create compelling campaigns and content. Competitor research and mapping out user journeys help me to build strategies that engage the audience
2.1.2. A big part of my everyday work is Research, Content Writing, Article Writing, SEO Copywriting, incl. blog posts, interviews, on-page content, metadata, Copy editing, Social Content
2.1.3. My clients are SMEs. Sectors I've worked with include: wellness & health, film, education, e-learning and MOOCs, travel, blogging and marketing
3. Education
3.1. MBA, Digital Strategy, HETIC, Paris, 2016
3.1.1. Coursework included: Digital Strategy for Luxury Brands, Management of Digital Projects
3.1.2. MBA Project Lead: Yves Saint Laurent Beauty Mobile Website Revamp & Chloe Digital Flagship Reboot: : Brand Analysis, Competitive Benchmark, Mobile Strategic Recommendation, UX & Content Strategy
3.2. MA in Media & Communication, University of Bradford, UK, 2002
3.2.1. Coursework included: Cinema Studies, European TV Landscapes, Media Law
3.3. Investigative Journalism, Rostov State University, Russia, 1994-1998
3.3.1. Coursework included: Creative Writing
4. Key Skills
4.1. Making Decks
4.2. Ideation
4.3. Strategy Planning & Analytics
4.4. Writing & Editing
4.5. Presentation
4.6. Research
4.7. Social Media Marketing
4.8. MS Office Suit & other tools
4.9. Fluent
5. Previous Work Experience
5.1. 2003-2016, Yahoo! Ireland and Yahoo! France. From German Online Editor to Sr Search Quality Advisor
5.1.1. 7+ years experience of working remotely with the US Search Quality team, Los Angeles, EMEA BD, UX and Editorial Teams, and Engineering teams in India from Paris, France. 6+ years experience of working in Dublin, Ireland
5.1.2. Used editorial guidelines and internal analytics reports to identify insights and conclusions from complex data to improve poorly performing domains. I improved customer experience and decreased the number of complaints by above 30%. Audited websites identifying content gaps.
5.1.3. Delivered high-quality, targeted, and revenue-driven proposals to Y!SM clients. Wrote winning ad copies, sourced keywords, created PPC and Native Advertising campaigns. Managed SEO campaigns, I saw 6% to 18% increase in conversion rates. Client projects included: Expedia, Amazon, Booking.com