INDIVIDUAL INTERVENTION
by Nur Syahirah Abdul Razak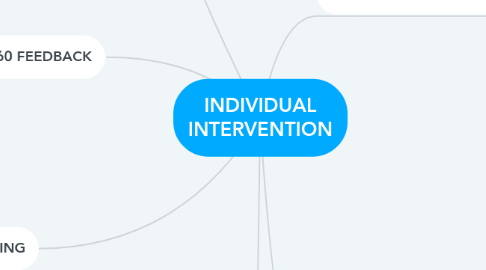 1. PSYCHOLOGY OF TRANSITION
1.1. NEW BEGINNING
1.1.1. • Reintegration of self, things may start to "click" • Emotions include gradually getting more comfortable, "fog lifting," new sense of purpose and confidence. • Approaching new beginnings without the hard work of the transition state may mean making the same mistakes over and over
1.2. NEUTRAL ZONE
1.2.1. • Reflection on loss, change, gradual acceptance of transition • Emotions include confusion, uncertainty, frustration, loss of purpose, the "emptiness" of loss that has not yet been replaced. • Tendency to escape this state, often without conscious attention to the feelings of change
1.3. ENDING
1.3.1. • Letting go of past practices, beliefs, relationships • Emotions include anxiety, fear, blame, shock, denial, disappointment. • Acknowledge the past (good and bad), celebrate successes, conscious "disintegration" of the ending.
2. INDIVIDUAL INSTRUMENTS & ASSESSMENTS
2.1. (+)
2.1.1. • Gives people language and constructs to understand themselves • Relatively low threat; individualized • Allows comparison to others • Promotes involvement in self-discovery • Can administer at multiple times to see changes or patterns over time • Can allow person to explore areas previously unknown to themselves
2.2. (-)
2.2.1. • People may seek the right answer or right style. • May encourage labeling or stereotyping • May encourage relativism instead of confrontation or learning • Fear of being exposed, "discovered" psychologically, "figured out" • Can foster dependency on the facilitator • Can be too much information to confront at once; can be overwhelming
3. COACHING
3.1. Coaching • Helping willing clients get to where they would like to go, through one-on-one dialogue • Coaches are not providers of diagnoses or solutions, and generally do not focus on organizational systems. • Requires a contract
4. 360 FEEDBACK
4.1. • Individual can receive feedback from a wide range of people with whom they work • The feedback itself can be vary widely among different methods •
4.1.1. 5 outcomes of successful 360 feedback process
4.1.2. o An increased awareness of appraiser's expectations
4.1.3. o Reduction of "undiscussable"
4.1.4. o Increase in periodical informal 360 degree performance reviews
4.1.5. o Improvement in work behavior and performance
4.1.6. o Increase in management learning
5. MENTORING
5.1. • Difference between mentoring and coaching is typically a matter of expertise and content knowledge to be shared • More like a teacher or apprentice model • Mentor may provide explicit advice or direction, focus is on skill development.
6. CAREER PLANNING AND DEVELOPMENT
6.1. Classic View: Career Stage Models
6.1.1. Growth, fantasy, exploration . Entry into world of work . Basic training . Full membership, early career . Full membership, midcareer . Midcareer crisis . Late career . Decline and disengagement . Retirement
6.2. Contemporary View: Boundaryless Careers
6.2.1. "Tour of Duty," short term, 2--4 year "gigs" . More frequent career changes . Independent, freelance, or contract work . Gain a diversity of experiences rather than upward mobility as the only options . Milestones more often learning related than time related