The effect of Covid-19 Pandemic on Filipino Musician's livelihood in Metro Manila.
by Karl Dahan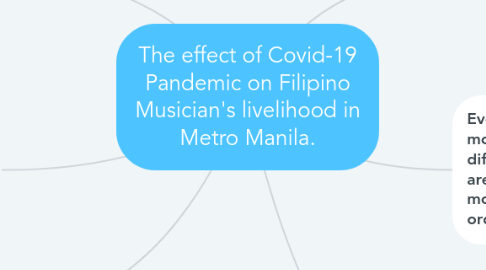 1. Music
2. Even before the pandemic, earning money as a musician is already difficult. As of right now, musicians are struggling to get by and earn money because of the quarantine order enforce by the government.
3. How does Covid-19 Pandemic affect the Filipino musicians livelihood in Metro Manila?
4. Module 3:Mind Map Exercise
5. Before the lockdown started, places such as bars, and even restaurants that musicians goes to perform have been temporarily closed due to the spread of corona virus.
6. Musicians that rely on performances as their source of income.