Module Three Mindmap: Patrick Deforge
by Patrick Deforge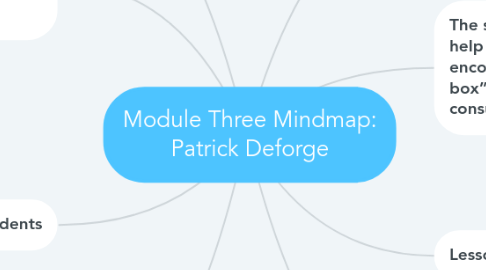 1. Meyer, A., Rose, D.H., & Gordon, D. (2014) Universal design for learning: Theory and practice, Wakefield MA: CAST
2. Boschee, A.A.G.F.B.B.M.W.B. F. (2018). Curriculum Leadership. [MBS Direct]. Retrieved from VitalSource Bookshelf Online
3. The creation of a fictional interview with author Harper Lee will spur creativity and encourage students to think deeper into the literature, gaining them a better understanding of the book's history and importance.
4. The selection of a chosen media source will help with their reading comprehension by encouraging them to "think outside the box" and relate their day-to-day media consumption to the literature.
5. Lesson Presentation Ideas
5.1. Students will select an excerpt from a media source that they would like to research as their avenue of relating modern culture to the literature selection.
5.2. Students will write a fictional "interview" between author Harper Lee and someone from their chosen media excerpt. Students will create their own questions for their "modern" media choice to ask Lee and will have her answer as they imagine she would.
6. How Students Will Demonstrate Comprehension
7. Motivation Ideas for Students
7.1. Boschee (2018) states that "a major problem historically has been the inability of instrutional programs to reach students and to meet their needs" (p. 241). By allowing students the option of selecting their own media source, it will allow them more independence and the ability to be more creative as well as being able to express themselves.
7.2. Vice utilizing solely the literary selection, thus being "fixed and inflexible" (Rose & Gordon, 2014, p.68), students in this assignment are given ample flexibility to select how their project will go, within reasonable boundaries. This allows the material to be delivered by the teacher in several different ways, enabling all students a better opportunity to succeed, all without a hard requirement rubric.
8. References