CHAPTER ONE
by NUR IZZANIE SOFIE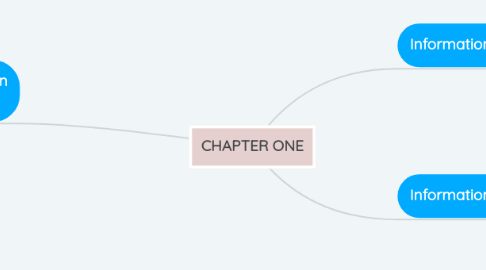 1. Information Technology
1.1. Refers to both the hardware and software that are used to store, retrieve, and manipulate information
1.1.1. IT SYSTEM COMPONENT
1.1.1.1. People
1.1.1.2. Data and Information
1.1.1.3. Input devices
1.1.1.4. Output devices
1.1.1.5. Storage devices
2. Information System
2.1. Information System is system that use information technology to capture, transmit, store, retrieve, manipulate or display information use in one or more business process (Alter, 1999)
3. Usage of IT in Information Agencies
3.1. Integrated Online Library System
3.1.1. A system that shares common databases to perform basic functions of a library. All system modules are link to each other. Examples of modules: 1. Cataloging and OPAC 2. Circulation 3. Acquisitions 4. Serials management 5.Interlibrary loan module (ILL
3.1.2. Functions
3.1.2.1. System can be a bibliographic storage and retrieval system for catalog, circulation, serial and acquisitions records.
3.1.2.2. Networked system allow a library to manage internal and external database resource.
3.1.3. Types of system
3.1.3.1. Single Application system
3.1.3.2. Integrated Application system
3.2. Automated Reference Service
3.2.1. A network of expertise, human intermediation and resources placed at the disposal of users in an online environment.
3.2.2. Similar terms
3.2.2.1. Digital reference
3.2.2.2. Chat reference
3.2.2.3. E-Reference
3.2.2.4. Online reference
3.2.2.5. Virtual reference
3.2.3. Functions
3.2.3.1. Guide/ educate/ assist library users over the internet.
3.2.4. Types of services
3.2.4.1. Web forms
3.2.4.2. Chat using commercial applications
3.2.4.3. Chat using instant messaging
3.3. Virtual Information Access
3.3.1. Virtual information access allows patrons of information agencies to access and share online resources via their websites.
3.4. Optical Technology
3.4.1. The technology of representing and transmitting information as beams of light instead of electrical current.
3.4.1.1. Wireless optical mouse
3.4.1.2. Wireless keyboard
3.5. Electronic Resources
3.5.1. A general term for electronic information stored online, in CD ROMs and on databases.
3.6. Interactive Multimedia
3.6.1. Any package of materials that includes some combination of texts, graphics, images, animation, video and audio.
3.6.1.1. Computer games
3.7. Imaging Technology
3.7.1. Imaging technology is the application of materials and methods to create, preserve or duplicate images.
3.7.1.1. Computer graphic
3.7.1.2. Microfilm
3.7.1.3. Micrographic
3.7.1.4. Drawing
3.7.1.5. Films
3.7.1.6. Painting