HISTORY OF PHYSICAL GEOGRAPHY
by Rhess Dela Pena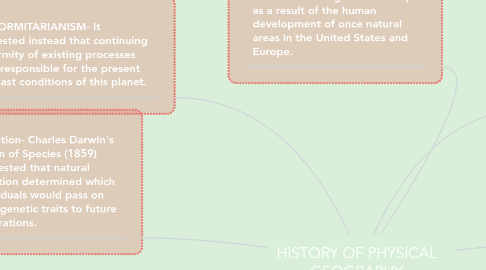 1. Evolution- Charles Darwin's Origin of Species (1859) suggested that natural selection determined which individuals would pass on their genetic traits to future generations.
2. UNIFORMITARIANISM- It suggested instead that continuing uniformity of existing processes were responsible for the present and past conditions of this planet.
3. Conservation - beginning in the 1850s a concern for the environment began to develop as a result of the human development of once natural areas in the United States and Europe.
4. QUANTITATIVE REVOLUTION-measurement became the central focus of research in Physical Geography. It was used primarily for hypothesis testing. With measurement came mapping, models, statistics, mathematics, and hypothesis testing
5. STUDY OF HUMAN/ LAND RELATIONSHIP-Some of the dominant themes in these studies included: environmental degradation and resource use; natural hazards and impact assessment; and the effect of urbanization and land-use change on natural environments.
6. The main purpose of Physical Geography is to explain the spatial characteristics of the various natural phenomena associated with the Earth's hydrosphere, biosphere, atmosphere, and lithosphere.
7. Exploration and Survey- This data collection included activities like determining the elevation of land surfaces, classification and description of land forms, the measurement of the volume of flow of rivers, measurement of various phenomena associated to weather and climate, and the classification of soils, organisms, biological communities and ecosystems.