INPUT vs OUTPUT DEVICES
by
Trey Johnson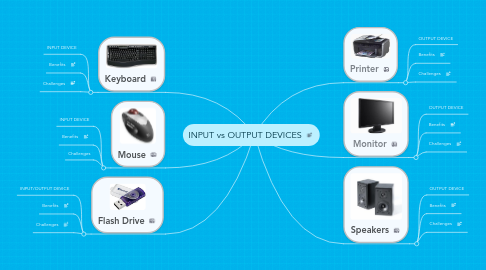 0.0
stars -
0
reviews range from
0
to
5
INPUT vs OUTPUT DEVICES
The difference between input and output devices is that input devices enter data into the computer and output devices receive data from the computer.
Printer
OUTPUT DEVICE
Benefits
Nowadays printers are all in one. They tend to have multiple functions including faxing and scanning. Whereas fax machines and scanners can act as input devices, printers are strictly output devices and benefit learners by giving them tangible information.
Challenges
The big challenge about printers is just the cost of paper being printed by multiple students and the ink and toner to print quality work. Each of these comes at a continual expense.
Monitor
OUTPUT DEVICE
Benefits
The benefits of the monitor almost go without saying. Visual stimulation is key for effective learning. Many of the six principles of effective eLearning assumed that visual aid was already a given.
Challenges
The challenge with monitors is a tendency to veer of course and run the risk of learners visiting sites that don't promote the information being discussed. It opens a door to distraction.
Keyboard
INPUT DEVICE
Benefits
Word processing is a necessary skill at all grade levels and in an age where texting far outnumbers calling, I can imagine that people prefer typing versus writing by hand, plus as a teacher you don't have to deal with the lack of legibility across different handwriting.
Challenges
Because everybody doesn't type at the same speed, utilizing the keyboard in a classroom environment can be a bit of a challenge. As a teacher it's important to celebrate differences in a classroom to encourage mutual respect in the class. When students discover that some individuals can't type as fast, or not at all, it can be challenging to show enough support lesser skilled individuals and prevent uncomfortable attention for learners who find typing challenging.
Mouse
INPUT DEVICE
Benefits
Using the mouse in a classroom makes the job of navigating much easier by pointing and clicking, and it's not a difficult device to use.
Challenges
Flash Drive
INPUT/OUTPUT DEVICE
Benefits
Flash drives are very handy devices, because of their mobility. Nowadays it's not uncommon to find a flash drive on a key chain, and with the ability to store large amounts of information, they allow students to work on projects via multiple computers.
Challenges
One of the only downfalls with flash drives is that they are able to carry viruses just as well as other files, so it puts the computers in a learning environment at risk, when you consider all the different flash drives from different students.
Speakers
OUTPUT DEVICE
Benefits
One of the six principles of effective eLearning was the redundancy principle. The basic concept was that sometimes narration along with graphics can be helpful. This is one of the ways I see speakers coming in handy, because now students get to hear about what they see.
Challenges
With speakers come challenges, because when you have multiple students and multiple speakers, it equals multiple distractions and compromises the effectiveness of the learning environment