Popular methodology
by Rebeca Machado Rodrigues Tasca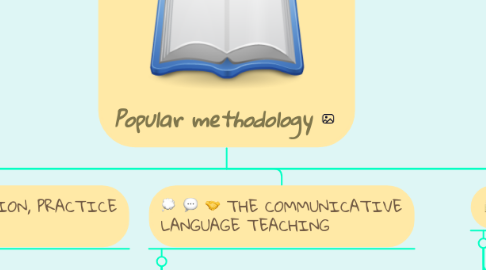 1. TASK-BASED LEARNING
1.1. Three basic stages: pre-task, task cycle and language focus
1.2. Learning assumptions
1.2.1. Cames from ability to resolve problems and perform;
1.2.2. Tasks: a real-world thing to resolve or do;
1.2.2.1. Comprehension, manipulation and interaction with a task
1.3. Language assumptions
1.3.1. inerational model: performance of social transactions between individuals;
1.3.2. Linguistics problems don't take the place: non-linguistic probllems (tasks) do
1.4. Cons
1.4.1. Applicability to begginers can be a problem;
1.4.1.1. (appropriate tasks can solve it)
1.4.2. Exclusive use of it
1.5. Pros
1.5.1. It has been widely used : it works
2. THE COMMUNICATIVE LANGUAGE TEACHING
2.1. Learning assumptions
2.1.1. Meaningful, contextualized and purpose use of language;
2.1.2. A variety of contexts and a variety of purposes guides the engagement and activities;
2.1.2.1. Goal: good performing on comunication is resulted from focus on content rather than any other aspect
2.2. Language assumptions
2.2.1. Language is used to achieve different kinds oc communicative purposes;
2.2.2. The desire of using the language for communicate;
2.2.3. Ability to communicate has got to be improved
2.3. Cons
2.3.1. Differents kinds of problems may appear: instability
2.4. Pros
2.4.1. It has effecient and do improve communication
3. PRESENTATION, PRACTICE AND PRODUCTION
3.1. A variation on Audio-lingualism | Consists on three hierarquical stages.
3.2. Learning: Cognitive-code learning
3.2.1. Cognitive process: drills are used with focus os a meningful practice;
3.2.2. Learning as result of mental effort;
3.2.3. Steps are centraded on Teacher-centred learning
3.3. Language assumptions
3.3.1. Language is a series of items that can be learned in sequence;
3.3.2. Situations contextualised grammar
3.4. Cons
3.4.1. Learning in straight lines: different from reality -> "language is full of interlockin variables and systems";
3.4.1.1. Break the language down in small peaces: form not content;
3.4.2. The language is "programated": i either it doesn't reflect how language actually is or how learning is
3.5. Pros
3.5.1. The criticism behind created new models as result as trying to improve it: ESA/CRA/OHE
4. AUDIO-LINGUALISM
4.1. Learning: Behaviourist model
4.1.1. Learning as result of an acquisition of habits;
4.1.2. Stimulus-Response-Reinforcement;
4.1.3. Repetition: shields from future mistakes -> drills
4.2. Language assumptions
4.2.1. Hierarquical and structural view: structuralism;
4.2.2. De-contextualised;
4.2.3. Focus on normative grammar
4.3. Cons
4.3.1. Students do not learn from errors;
4.3.2. Only correct language is considered
4.4. Pros
4.4.1. For teachers: more confidence with the linguistic restriction
5. FOUR METHODS
5.1. FOCUS ON STUDENTS (Humanistic approaches)
5.2. COMMUNITY LANGUAGE LEARNING
5.2.1. Oral focus: students decide about what to talk -> teacher/knower helps when someone needs it
5.2.2. focused on facilitate the language use than to teach
5.3. THE SILENT WAY
5.3.1. Belief: discover and create language has more effecient than repeating or remembering
5.3.2. Student is actively involved on his/her learning -> Group power: when it's necessary, one help the other
5.3.3. The teacher engage the students on conversation without participating a lot: "says as little as possible"
5.4. SUGGESTOPAEDIA
5.4.1. Physical surroundings and atmosphere of the classroom -> vital importance
5.4.2. To remove barriers to learning: comfort, confidence
5.4.3. Synesthetic learning
5.5. TOTAL PHYSICAL RESPONDE
5.5.1. Language processing + physical action = hear (language)-> understand -> act
5.5.2. Based on features of first language learning: language processing + physical action
6. HUMANISTIC TEACHING
6.1. Learning assumptions
6.1.1. Use of students' lives and feelings + language use
6.2. Language assumption
6.2.1. Students have something to communicate
6.3. Cons (-ish)
6.3.1. The ability of the teacher to deal with individualities has to be efficient
6.4. Pros
6.4.1. The atmosphere of classes can help improve learning
7. THE LEXICAL APPROACH
7.1. Learning assumption
7.1.1. Acquisition of items from lexicon: as huge as it's the acquisition of this items, more fluency a student will have.
7.1.2. To increase lexicon: suitable input
7.2. Language assumptions
7.2.1. Focus on roles of lexis and lexical chunks + grammar + vocabulary
7.2.2. Language is "multi-word prefabricated chunks"
7.2.3. Sintax + words in combination: important roles
7.3. Cons
7.3.1. Semantic and understanding are take for granted
7.3.2. Order to teach and how much input takes for succesful learning aren't easy to define
7.3.3. Pedagogic principles/syllabus are abstract
7.4. Pros
7.4.1. Focus on composition of language