Top 10 Thanksgiving traditions in the US
by Julien Vervier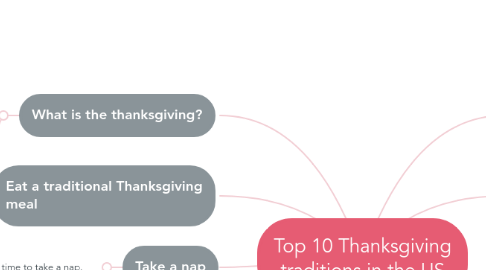 1. What is the thanksgiving?
1.1. It's the most wonderful time of the year in the US – a time for food, family, friends, and being thankful. Originating as a harvest festival, Thanksgiving is one of the biggest holidays in the US.
2. Watch the Macy's Thanksgiving Day Parade
2.1. The Macy's Thanksgiving Day Parade is holiday traditions in new york city. This parade is know for for its giant balloons flying above the public.
3. Break the wishbone for good luck
3.1. it's a superstition, once the meal is over, two people make their vows and break the wishbone. And the people with the biggest piece have their wish fulfilled.
4. Eat a traditional Thanksgiving meal
4.1. The traditional meal is roasted turkey, cranberry sauce, stuffing, mashed potatoes and sauce, but also sweet potatoes and Brussels sprouts and pumpkin pie for dessert.
5. Take a nap
5.1. after eating a rich turkey, it's time to take a nap.
6. Share what you're most thankful for
6.1. This is the most wonderful moment, everyone is at the table eating and sharing their favourite memories of the year.
7. Watch an American football game
7.1. Since 1876, families have been getting together to watch their favorite NFL teams. Or, some families split into teams and play a football match themselves.
8. Be grateful for Friendsgiving
8.1. Friendsgiving is the time when friends get together to say thank you before joining their family.
9. Run a turkey trot
9.1. It's running 5 km on Thanksgiving day dressed as a turkey.
10. Giving back
10.1. These are associations that collect food for the most destitute or organise a thanksgiving meal for them.