CHAPTER 6 : WORK RELATED STRESS & STRESS MANAGEMENT
by shahrul izzat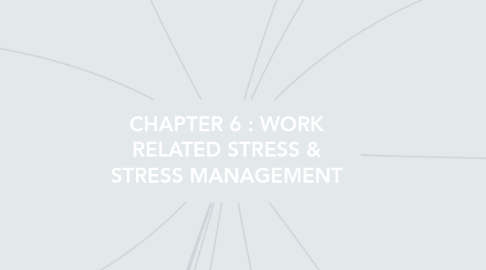 1. Physiological, psychological, and behavioral consequences
2. Reduced Personal Accomplishment
3. Cynicism (depersonalization)
4. Emotional Exhaustion
5. Interpersonal and Role Related Stressors
6. Definition of STRESS
6.1. Feeling of tense ,anxious, and worried
6.2. stimulus or response
6.3. Stimulus - some characteristic or event that may result in a disruptive consequence, factor that initiate further actions
6.4. Response - stress as response to some stimulus, called a stressor, reactions, behavior
7. General Adaption Syndrome Model(GASM)
7.1. Alarm Reaction - Occurs when a threat or challenges activates physiological stress response. The individual energy level and coping effectiveness decrease in response to the initial shock
7.2. Ressistance - It activates various biochemical, psychological and behavioral mechanism to overcome or remove the source of stress. The body reduces to the immune system during this stage.- people tend to catch a cold or some other illness when they experience prolonged stress.
7.3. Exhaustion - People have a limited resistance capacity, if the source of stress persists the individual will move into exhaustion stage – increased risk of long term physiological and psychological damage (e.g. job burnout – the process of emotional exhaustion, cynicism and reduced feelings of personal accomplishment)
8. Consequences of Distress
8.1. Physiological - Cardiovascular disease, hypertension, headaches
8.2. Behavioral - Work performance, accidents, absenteeism, aggression, poor decisions
8.3. Psychological - Dissatisfaction, moodiness, depression, emotional fatique
9. Job Burnout Process
10. What are Stressors?
10.1. Stressors are the causes of stress - any environmental condition that places a physical or emotional demand on the person
10.2. Some common workplace stressors include:
10.2.1. Harrassment an incivility
10.2.2. Work overlord
10.2.3. Low task control
11. A.Psychological Harassment
11.1. Repeated and hostile or unwanted conduct, verbal comments, actions or gestures, that affect an employee's dignity or psychological or physical integrity and that result in a harmful work environment for the employee.
12. B.Sexual Harrasment
12.1. Sexual harassment in the workplace increases absenteeism and turnover and lowers workplace productivity and job satisfaction
12.2. Unwanted conduct
12.2.1. The behaviour or things said must be unwanted. A gesture can be unwanted even if the employee does not protest out loud.
13. C.Work overload and Task control stressors
13.1. Work overload stressor
13.1.1. 1. Working more hours, more intensely than on cope
13.1.2. 2. Affected by globalization, consumerism, ideal worker norm
13.2. Task control stressor
13.2.1. 1. Due to lack of control over how and when tasks are performed
13.2.2. 2. Stress increases with responsibility
14. Managing Work- Related Stress
14.1. 1.Remove the stressor
14.2. 2.Withdraw from the stressor
14.3. 3.Change stress perceptions
14.4. 4.Control stress consequences
14.5. 5.Receive social support