CHALLENGES OF IMPLEMENTING SELF-MANAGED TEAMS EFFECTIVELY
by suriyah suparman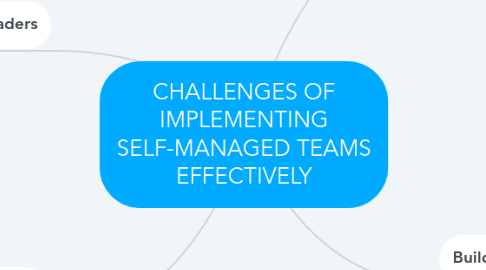 1. Build a team with integrity
1.1. Requires a team capable of managing the startup company together. They need to be able to shoulder several responsibilities at the same time and who can work without being honest and responsible. Be a leader's challenge to get employees with integrity and hard work
2. Build a motivated team
2.1. we all want our employees to collaborate, work as a team, and play nice in the sandbox. Every single employee comes to you and with other employees, it requires the manager in a difficult situation to consider the dispute.
2.2. It is important to distinguish between the tasks or conflicts of those dimensions for each problem between team members. The task conflict proved to be healthy and led to the consideration and development of alternative ideas. However, personal conflicts are toxic to the team and must be eliminated immediately.
3. Fair and influential leaders
3.1. A leader will motivate the people around him to do their best. Health, discipline, habits and daily focus are very important because you have to use your best to make the best decisions.
3.2. someone in need should wisely spread them. influential leaders will make it easy for employees to listen to instructions.
4. Loss of High Potential Employees
4.1. Good employees, will merenncat team productivity. Make sure high-potential employees need what is different, challenged, supported, and learned. Let them know that we hurt and appreciate them.