A Woman Of No Importance Summary
by Danny Forest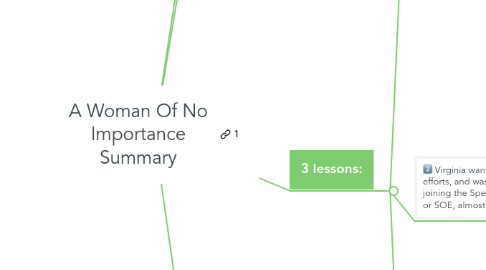 1. 1-Sentence-Summary:
1.1. A Woman of No Importance tells the fascinating and exciting story of Virginia Hall, an American who became one of the best spies for the Allies in World War II and helped significantly in the defeat of Nazi Germany.
2. Favorite quote from the author:
2.1. "Valor rarely reaps the dividends it should." - Sonia Purnell
3. 3 lessons:
3.1. After denying an engagement, Hall studied in Europe and persevered even after a horrible accident left her missing half a leg.
3.1.1. Virginia Hall got her start as the daughter of a wealthy banker father and an ambitious socialite mother.
3.1.2. Even though her father had a large inheritance, he squandered it.
3.1.3. Her mom's focus was to redeem her lost wealth through the marrying up of her daughter.
3.1.4. But Virginia wasn't like the typical girl of her era.
3.1.4.1. She loved to hunt and didn't care about finding a suitor and settling down.
3.1.4.2. However, to please her mother, she got engaged at 18.
3.1.4.3. But as independent as she was, it didn't last, and she moved on to bigger endeavors.
3.1.5. So she left for Paris to experience the world and get her education, and she fell in love with Europe.
3.1.5.1. By the time she graduated she knew five languages and was knowledgeable in European politics.
3.1.6. After school, she set out to get into diplomatic service.
3.1.6.1. But Hall soon found that it wasn't easy to get a position like this as a woman.
3.1.6.2. Instead, she took a secretarial position in Poland.
3.1.7. This was when things got even harder for her because of a horrific hunting accident.
3.1.7.1. Virginia shot her foot and an amputation of it below the knee left her with a wooden leg.
3.1.7.2. But this didn't stop her ambitions. She named her peg leg "Cuthbert" and set out to somehow serve in World War II.
3.2. Virginia wanted to help with the war efforts, and was denied many times before joining the Special Operations Executive, or SOE, almost by accident.
3.2.1. With World War II unfolding, Virginia had to leave her post in Estonia.
3.2.2. She fled to England, where she joined the women's branch of the British Army and drove ambulances around France.
3.2.3. In 1940, Paris was abandoned and Hitler's troops took over. Germany held the occupation of the North.
3.2.4. But the South remained a "free zone" that was run by a puppet regime.
3.2.5. With the German occupation of France, Virginia fled to the southern border town of Irun, though she longed to help the country she had grown to love.
3.2.6. This is where she had a chance meeting with British secret service officer George Bellows.
3.2.6.1. He posed as a salesman, but he was secretly on a desperate search for members to join the Special Operations Executive (SOE).
3.2.6.2. This was a secret service created by Britain to undermine Hitler in France.
3.2.6.3. Virginia didn't know his job or that he was interviewing her as they talked.
3.2.7. When he heard about her previous experience and her longing to help France's cause in the war, he knew he had found a recruit.
3.2.7.1. He just didn't know how valuable she would be yet.
3.3. The experiences Hall had during World War II are fascinating, and she even helped prepare for D-Day.
3.3.1. After training, Virginia was sent to southern France to create a secret network of resistance fighters.
3.3.1.1. She created a valuable network of dozens of people and soon they were in business sabotaging the German army.
3.3.2. Unfortunately, through a captured agent, the enemy found the address to a safehouse and was able to use it as a mousetrap to capture all agents but Hall, leaving her alone.
3.3.2.1. But this didn't stop her.
3.3.3. She set up a plan that involved sending an elderly priest in a wheelchair with a radio beneath his robes into where they were being held and persuading a guard to get his colleagues drunk in exchange for his freedom.
3.3.3.1. All of her colleagues were freed.
3.3.4. But word got out of her success, and Nazi intelligence knew from intercepted radio that a woman, referred to as "the limping lady" was orchestrating the resistance.
3.3.4.1. Thousands of posters with Hall's image were posted throughout France with the words, "The Enemy's Most Dangerous Spy. We Must Find and Destroy Her."
3.3.4.2. She narrowly escaped and fled to Spain across a snowy mountain range on foot, an agonizing journey with her wooden leg.
3.3.5. Her final mission was to work with the United States to prepare for the Allies to invade France.
3.3.6. Disguised as a peasant, she organized resistance into units.
3.3.6.1. They did everything from derailing trains and redirecting signs to lead conveys into ravines to disguising explosives as horse manure and leaving them on roads.
3.3.7. Before D Day, she signaled French resistance troops to help the invasion of Normandy.
4. Who would I recommend the A Woman Of No Importance summary to?
4.1. The 32-year-old history buff who would like to hear a lesser-known story about World War II, the 56-year-old that loves France and wants to know more of its history, and anyone who loves a good adventure.