A comparative analysis of marriage in Islamic Family Law and Civil Law in Malaysia.
by Rou Ying Tan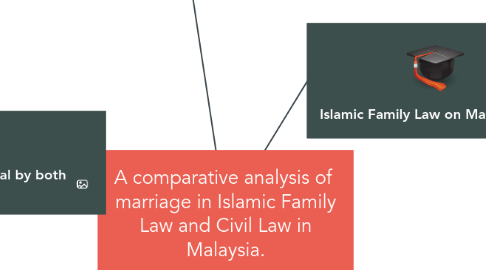 1. Age of parties and consensual by both parties and parents
1.1. Must be over 18 years of age *Females who are above 16 years but below 18 years must get a special licence from the Chief Minister
1.2. Those below 21 must obtain parental permission
2. Civil Family Law
2.1. Sources
2.1.1. Law Reform (Marriage & Divorce) Act 1976. Married Women Act 1957.
2.1.2. Practical Law UK Signon
2.2. Marriage Requirements
2.2.1. Monogamous
2.2.2. Between a biological male and a female (no same sex marriage)
2.2.3. Kindred and affinity
2.2.3.1. Must be non-blood related
2.2.3.2. Exception made for Hindus
2.3. Registration
2.3.1. Non-registration will render a marriage void. However, exceptions can be made
2.4. Procedure of Marriage in Malaysia & Abroad
2.4.1. At Registrar's Office
2.4.2. Under special licence from Chief Minsiter
2.4.3. Through religious ceremony, custom or usage
2.4.4. Has to have at least 2 witnesses
2.4.5. Must be consensual between both parties
3. Islamic Family Law on Marriage
3.1. Sources
3.1.1. Each state has its own enactment and Syariah court to regulate marriages
3.1.2. Law - Section 17 IFLA 1984
3.1.3. • Islamic Family Law (Federal Territories) Act 1984 (Act 303)
3.1.4. Hadith
3.2. Marriage Requirements
3.2.1. 1. Bridegroom
3.2.2. 2. Bride
3.2.3. 3. Guardian
3.2.4. 4. 2 Male Witnesses
3.2.5. 5. Pronouncement of offer and acceptance
3.3. Procedure of Marriage in Malaysia & Abroad
3.3.1. The location of solemnisation within Malaysia: follows according to state laws of the bride's hometown Applied through Syariah Court
3.3.2. The location of solemnisation abroad: can be done at embassies, consul offices. Has to follow Syariah laws as well as local laws
3.4. Mahar (Dower)
3.4.1. According to Syariah
3.4.1.1. Mahr is the amount to be paid by the groom to the bride at the time of marriage, some of which may be delayed according to what is agreed upon by the spouses. The mahr is for her to spend as she wishes
3.4.2. Under IFLA
3.4.2.1. Section 21 is dedicated to this matter