STEPS OF A CLIL LESSONS
by Cristina de las Morenas Vizcaíno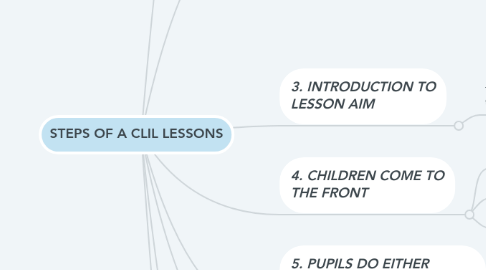 1. 1. WELCOME ROUTINE.
1.1. Good morning/good afternoon. How are you?
1.1.1. Pin de Anabel Aac en Bordes | Ingles para preescolar, Ingles basico para niños, Clase de inglés
2. 2. TUNING INTO ENGLISH
2.1. Date/weather.
2.1.1. Making Progress: Our Homeschool Room - Happiness is Homemade | School calendar, Classroom calendar, Preschool classroom
3. 3. INTRODUCTION TO LESSON AIM
3.1. Teacher tells to pupils what they are going to do...
3.1.1. TODAY, WE ARE GOING TO DO...
4. 4. CHILDREN COME TO THE FRONT
4.1. a. REVISION
4.2. b. PRESENTATION OF NEW CONTENT
4.3. c. ORAL WORK
5. 5. PUPILS DO EITHER INDIVIDUAL WORK/PAIR OR GROUP WORK
5.1. Teacher explains step by step what students will have to do and models. After, he/she checks that everybody has understood the work.
6. 6. PUPILS DO THEIR WORK
6.1. Teacher walk around the class to check that everybody has understood and helps if someone need it.
7. 7. EVALUATION. TEACHER CHECKS
7.1. a. If pupils enjoyed the lesson
7.1.1. SMILES
7.1.2. THUMB
7.1.2.1. Hand shows like flat design Royalty Free Vector Image | Picture mix, Design, Vector images
7.2. b. If pupils achieved the learning objectives by asking some questions.
8. 8. PUPILS TIDY UP AND DO THE GOODBYE ROUTINE
8.1. The Goodbye Song for Children