Natural Resources
by Paula Casillas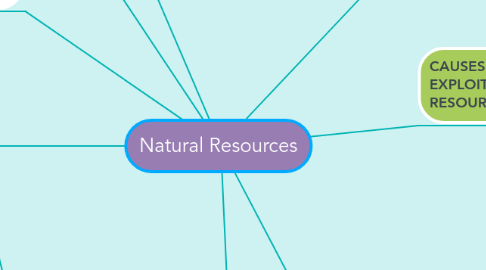 1. Natural resources are materials from the Earth that areused to support life and meet people's needs.
2. Other natural resources are air, sunlight, soil and water. Animals, birds, fish andplants are natural resources as well.
3. Natural resources also are the raw materials for making products that we use everyday from our toothbrush and lunch box to our clothes, cars, televisions, computers and refrigerators.
4. CONSEQUENCES OF THE OVEREXPLOITATION OF NATURAL RESOURCES
4.1. Are the disappearance of essential habitats for flora and fauna
4.2. If the erosion of fertile soil continues at the same rate, agricultural commodity prices will inevitably soar.
4.3. Nine out of ten people worldwide breathe air with high levels of pollutants and seven million people die each year air pollution.
5. Any natural substance that humans use can be considereda natural resource. Oil, coal, natural gas, metals, stoneand sand are natural resources.
6. CAUSES OF THE EXPLOITATION OF NATURAL RESOURCES
6.1. Causes of the exploitation of natural resources
6.2. Obtaining food.
6.3. Obtaining water.
6.4. Use of raw material for industry.
6.5. Use of oil for fuels.
6.6. Land use for agricultural purposes.
6.7. Obtaining products derived from animals for human consumption.
7. THE CASE OF ECUADOR
7.1. Ecuador is rich in natural resources such as gold, silver, and crude petroleum. Despite having rich reserves of base and precious metals, Ecuador is not a key producer of mineral commodities
7.2. The country is the fifth-largest producer of petroleum products in South America and Central America. It is also a member of the Organization of the Petroleum Exporting Countries (OPEC). Most of the petroleum produced by this South American country is in its Amazonian eastern region, with the most productive oil blocks in the northeastern region.
8. Therefore, we must use these resources responsibly and not only seek an economic benefit with their extraction, but also preserve them for future generations since they are the source of life and ecosystems.