CHAPTER 1 : INTRODUCTION TO MALAYSIAN ECONOMY
by Hanis Fazleena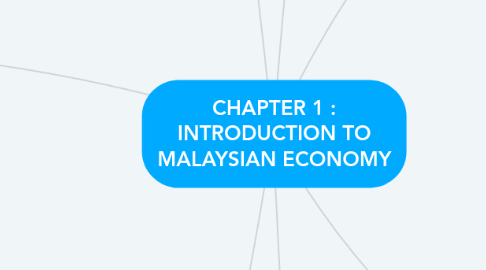 1. ECONOMIC GROWTH
1.1. Definition
1.1.1. - Economic growth is the increase in the amount of final goods and services. It is measured as the rate of increase in real gross domestic product.
1.2. Real GDP Growth
1.2.1. Real gross domestic product (GDP) is an inflation-adjusted measure that reflects the value of all goods and services.
1.3. GDP Per Capita
1.3.1. GDP per capita stands for Gross Domestic Product (GDP) per capita (per person).
1.4. Inflation Rate
1.4.1. The inflation rate is the percentage increase or decrease in prices during a specified period, usually a month or a year.
2. ECONOMIC DEVELOPMENT
2.1. Definition
2.1.1. Economic development is broad and comprehensive. It refers to the sustained, concerted actions of policy makers of a country and societies.
2.2. Positives Changes
2.2.1. Socio-Economic Changes
2.2.1.1. Human Capital Development, Infrastructure Development. Regional Competitiveness, Environmental Sustainability, Poverty Reduction, Equitable Income Distribution, Enhanced Healthcare, Improved Safety, Literacy Development and Social Amenities
2.2.2. Technological Changes
2.2.2.1. Technological Development, Innovation, Research and Other Initiatives
2.3. Economic Development Goals & Indicators
2.3.1. Economic Development Goals
2.3.1.1. Improved in Per Capita Income, Quality of Life Improvement, Reduced Imbalance in Regions Development, Reduced Imbalance Between Traditional & Modern Sectors, Improved Basic Needs and Solved Environmental Problems
2.3.2. Indicators Of Economic Development
2.3.2.1. Rise in Standard of Living, Improvement in GDP per Capita, Increase in Literacy Rate, Improved Healthcare, Sustainable Development and Balanced Development
2.4. Effects Of Economic Development
2.4.1. Long Term Environmental Implications, Economic Problems, Income Inequality and Social Problems
2.5. Measures : Human Development Index
2.5.1. Human Development Index (HDI) is a summary measure of average achievement in key dimensions of human development
2.5.2. Citizen's quality of life as an indicator to economic development
2.5.3. Quality of life is often measured by using the Human Development Index (HDI)
3. ECONOMIC GROWTH VS ECONOMIC DEVELOPMENT
3.1. Differences
3.1.1. ECONOMIC GROWTH
3.1.1.1. 1) Narrow Concept, 2) Scope : output in economy, 3) Factor : rise in GDP, 4) Quantitative measures : GDP, GNI, Real GDP, 5) Impact : quantitative changes, 6) Relevance : progress in Developed countries, 7) Short term process
3.1.2. ECONOMIC DEVELOPMENT
3.1.2.1. 1) Broad & comprehensive concept 2) Scope : Structural change in economy 3) Factor : rise in life quality : HDI , drop in inequality, structural change 4) Quantitative & qualitative measures : real GDP, HDI, GDI, HPI 5) Impact : quantitative & qualitative changes 6) Relevance : progress in Developing countries
4. ISLAMIC ECONOMIC GROWTH
4.1. Concepts
4.1.1. Concepts of halal (permissible) and haram (forbidden) is practiced in the economy.
4.1.2. The goal are to achieve the use and best allocation or resources to bring about economic growth and prosperity to the society.
4.2. Determinants Of Economic Growth
4.2.1. Human Resources
4.2.1.1. Two basis needs : spiritual & physical needs
4.2.2. Investible Resources
4.2.2.1. Internal : Zakat, voluntary savings in the EPF. External : interest-free debt
4.2.3. Entrepreneurship
4.2.3.1. All economic activities must be halal (permissible)
4.2.4. Technological Changes
4.2.4.1. Involve both product and process innovations : consists of sustainable socio-economic growth in both quantitative & qualitative
5. ISLAMIC DEVELOPMENT IN ISLAMIC
5.1. Concept
5.1.1. Three elements
5.1.1.1. TAUHID concept emphasizes the worship of one GOD and the relationships between human beings and their Creator and also the relationship among mankind
5.1.1.2. RUBUBIYYAH refers to believing Allah as the most powerful creator
5.1.1.3. KHALIFAH means the leader of a caliphate. As servants to the Creator, humans are responsible for prosperity in the nation in accordance of Islamic law (Shari'ah)
5.2. Objectives of Islamic Development
5.2.1. Achieve Falah
5.2.2. Equal Opportunities
5.3. Aspect of Islamic Economic Development
5.3.1. The Divine and The Creation
5.3.1.1. Relate to human welfare and social and welfare interest should be first prioritised before private interest
5.3.2. The Material and Spiritual Need of Human Being
5.3.2.1. Welfare and equity of each individual must be considered during the development process : equal rights to resources and moderation in consumption : follow hierachy of goods
5.4. Dimensions of Economic Development in ISLAM
5.4.1. 1) Spiritual 2) Moral & Ethical 3) Technological Dimension 4) Social 5) Environmental & Physical
6. ECONOMIC DEVELOPMENT IN ISLAM
6.1. Islamic Economic Development
6.1.1. Economic Development = Economic Growth + Changes
6.2. Negative Impacts of Islamic Economic Development
6.2.1. 1) Environmental Degradation 2) Moral & Social Problems 3) Poverty & Unequal Income Distribution
7. MALAYSIAN ECONOMIC STRUCTURE
7.1. Main Arguments of Malaysian Economic Structure
7.1.1. Economic growth and structural change in the country evolved from a backdrop of colonial relations
7.1.2. Ethnic political economy has dominated government policy formulation in the country with important ramifications for corporate control and affirmative action
7.2. Economic Structure Before & After Independence
7.2.1. 1) Before Independence - Prior to 1957
7.2.2. 2) After Independence - between 1957 - 1970, between 1971 - 1990, between 1991 - 2020
7.3. Economic Structure Prior To 1957
7.3.1. Under the British rule, the Malaysian economy was characterized by agricultural production and mining
7.3.2. In the colonial period, Malaya was involved in production and processing of rubber and tin
7.3.3. The British made Malaya a major export economy, producing rubber and tin for their country
7.4. Economic Structure After Independence
7.4.1. The Malaysian economic structure after independence can be divided into three time periods : -
7.4.1.1. Pre - New Economic (Pre-NEP), 1957-1970 Era
7.4.1.1.1. In the year of independence (1957-1970), the economy was still heavily dependent on rubber and tin exports
7.4.1.2. New Economic Policy (NEP), 1971 - 1990 Era
7.4.1.2.1. Growth and equity strategy to reduce poverty and restructure society (20-year NEP)
7.4.1.3. Vision 2020 1990-2020 Era
7.4.1.3.1. Focused on the development of the manufacturing and services sector to become developed nation status by 2020
7.5. Factors Contributing to Malaysia's Structural Changes
7.5.1. Change in Economic Policy & Development
7.5.1.1. Focused on the industrial sector
7.5.2. Unstable Agricultural Prices in International Market
7.5.2.1. Agriculture is prone to volatility of input and output prices
7.5.3. Industrial Sector Ability to Absorb Manpower & Solve Unemployment
7.5.3.1. Manufacturing provides more jobs, absorb manpower supply & reduce unemployment
7.5.4. Availability of Resources for Industrial Sector
7.5.4.1. The inputs to industries at cheaper costs
7.6. Structural Change Implications
7.6.1. Increased in GDP & Reduced Poverty Level
7.6.2. Reduced Dependency on Primary Sector
7.6.3. Migration from Rural to Urban Area