Skills/Concepts to prepare me for Theatre Production & Design
by Laurie Peric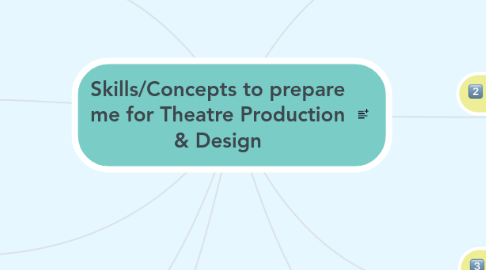 1. Resilience
1.1. Selfworth
1.1.1. Self-control
1.1.1.1. Mood
1.1.1.1.1. Be open and possitive
1.1.1.2. Be profesional at all times in any situation
1.1.2. Know you, be confident !
2. Reducing Stress
2.1. Being organised
2.1.1. Techniques to reduce stress
2.1.1.1. Asking for help
2.1.1.1.1. Having a strong network of people in your working team, will mean you can ask for help.
2.1.1.2. The Director could change there mind. You will need to be able to deal quickly with stress so you can move on and deliver a good outcome.
2.2. working in a creative team you must be organised and ready to adapt ideas at any point.
3. Learning Agility
3.1. Seeking
3.1.1. Sense-making
3.1.1.1. Internalising
3.1.1.1.1. Appling
3.2. Designing and working out the right materials for the job will need all these skills.
4. Health mind in Healthy Body
4.1. Cognitive
4.1.1. Physical
4.1.1.1. Psychological
4.1.1.1.1. Social
4.2. Keeping healthy and fit so you can be your best, creating new fresh ideas for the job.
5. Physical Activeriety & Mental Health and well-being
5.1. Movement
5.1.1. Sleep
5.1.1.1. Nutrition
5.1.1.1.1. Sitting
5.1.1.1.2. Eat well and regular so your brain can problem solve tasks.
5.1.2. keep agile for a physicl job
6. Reflection
6.1. Description
6.1.1. Feelings
6.1.1.1. Evaluation
6.1.1.1.1. Analysis
6.2. When designing or producing work for the set the reflection stage will ensure you find the strongest outcome needed to serve the narrative.
7. Intellectual Property & Fair Use
7.1. Copy Right
7.1.1. Trade marks
7.1.1.1. Design rights
7.1.1.1.1. Patents
7.2. When designing we will need to research. Understang the law on the use of material is paramount, safe garding the industry from law suits and for the protecting your own.
8. Collaberation Tools
8.1. Synchronous
8.1.1. Asynchronous
8.1.1.1. Apps &Software
8.2. Sharing ideas with colleagues and customers using the internet will be something thats used on a daily basis.
9. Digital Litericies
9.1. Citizenship
9.1.1. Interacing & Collaberating
9.1.1.1. Producing
9.1.1.1.1. Data & Computational thinking