The false law applicable for questions without inquiry.
by Luis Arce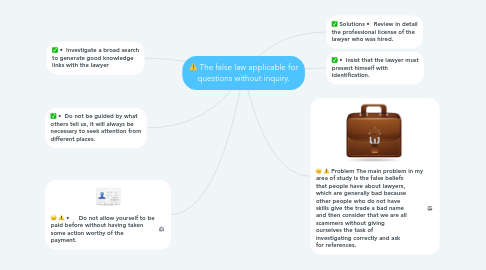 1. Solutions • Review in detail the professional license of the lawyer who was hired.
2. • Insist that the lawyer must present himself with identification.
3. • Investigate a broad search to generate good knowledge links with the lawyer
4. • Do not be guided by what others tell us, it will always be necessary to seek attention from different places.
5. • Do not allow yourself to be paid before without having taken some action worthy of the payment.
6. Problem The main problem in my area of study is the false beliefs that people have about lawyers, which are generally bad because other people who do not have skills give the trade a bad name and then consider that we are all scammers without giving ourselves the task of investigating correctly and ask for references.