Health and Safety - At least 10 examples and how to prevent them
by Elle Burnett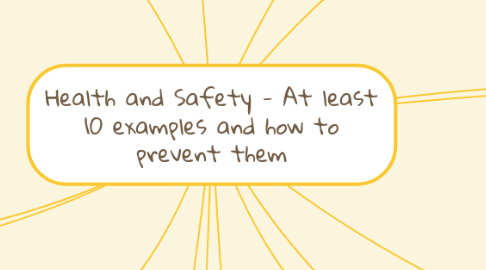 1. If you could not deal with a Hazard in the salon, who would you report this to?
2. Furniture around the salon, eg a chair, member of staff or client could fall over it
3. Poor cleanliness. Regular cleaning through the day.
4. hazardous chemicals , having good ventilation system and keeping chemicals stored in a safe place
5. Spillages, a client or staff member may slip you would prevent this by cleaning up a spillage as soon as it happened and put a wet floor sign down
6. loose wires, client can trip and fall over. Make sure all wires all safely secured
7. Overloaded sockets. Re-organise and obtain an extension lead until new sockets can be fitted.
8. sharp objects around
9. Products without labels. Ascertain what the product is and get it re-labelled. If unsure don't use the product.
10. waste should be carried out by an effective method of seperating
11. access routes there should be sufficient width and allow people to walk arounf safely with ease
12. Electric shock, there may be damage to wires. You should always check wires before and after use. Make sure equipment is pat tested. If a wire is damaged you should report to salon manager and do not use
13. jenn Gas and electricity appliances should be regularly checked.
14. If we could not deal with a Hazard, we would pass this on to a manager, person in charge, somebody trained, the person who deals with Health and Safety.
15. manager of the salon