My Father, Alfian Fajar
by CintaValensya DeePando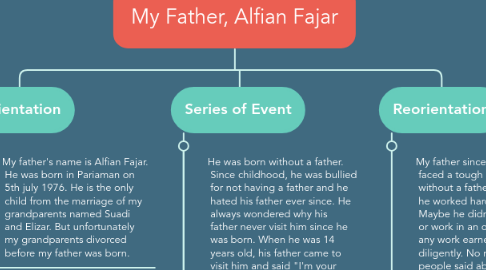 1. Orientation
1.1. My father's name is Alfian Fajar. He was born in Pariaman on 5th july 1976. He is the only child from the marriage of my grandparents named Suadi and Elizar. But unfortunately my grandparents divorced before my father was born.
2. Reorientation
2.1. My father since childhood has faced a tough life, grown up without a father. In his youth, he worked hard for himself. Maybe he didn't go to college or work in an office, but he did any work earnestly and diligently. No matter what people said about him, he does what he thinks is right even though he also falls into the wrong thing. His hard working nature is what I'm very proud of him, he will do anything to make people he care about happy.
3. Series of Event
3.1. He was born without a father. Since childhood, he was bullied for not having a father and he hated his father ever since. He always wondered why his father never visit him since he was born. When he was 14 years old, his father came to visit him and said "I'm your father". He was shocked and couldn't believe that. He never knew who his father was. And then, he told to his father that he didn't have a father and even if he have, he really hated him.
3.2. After graduated from high school, my father went to Jakarta and worked there as a public transport driver. In Jakarta, he met my mother. They fell in love and want to get married but they didn't get an approval from both of parties. So they eloping. They were married for 3 years but have no children. At that time, my father was a drug addicts. And maybe that's why they couldn't have a children. My mother's family asked them to come home to Padang. And finally they officially married there. They have 3 children in 6 years of marriage.
3.3. In 2009, we moved to Pekanbaru. My dad started working in folding doors workshop. He started out as a driver and ended up owning his own folding doors workshop. In 2012, he reached his prime. We live very well and had everything we want. But, my father wasted his money and finally the business went bankrupt and what he have was just 3 trucks, so he worked as a expedition driver. In 2016, my mother pregnant and gave birth to a son. He was so proud and happy because he has 2 boys and 2 daughters. But 2 years later, he sold his trucks because he want to built a home for us. Now, he is working in his brother's folding door workshop as a driver and salesmen.