Customer Value Optimization(CVO)
by Nandeesh B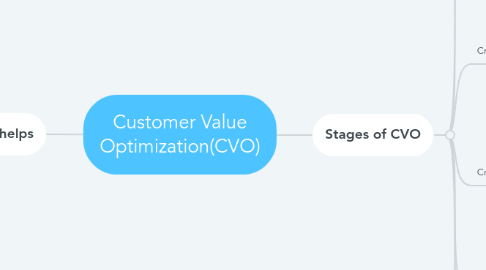 1. How CVO helps
1.1. increasing the frequency of transactions per customer
1.2. increasing average transaction size
1.3. Increasing Sales
1.4. increasing the number of customers
2. Stages of CVO
2.1. Identify Product Market Fit
2.1.1. Determine how your product solves customer problem
2.1.2. Move your customer from undesirable state to desirable state with your product or service
2.2. Choose a Traffic Source
2.2.1. Choose how to reach your prospects
2.2.1.1. Organic Traffic Source
2.2.1.2. Paid Traffic Source
2.2.1.3. Social Media Platforms
2.2.1.4. Email Marketing
2.2.2. Become a master of 1 traffic source and then move on to other.
2.2.3. Learn how to measure traffic that is worth
2.2.4. Use that traffic to extract immediate value
2.3. Create Lead Magnet
2.3.1. Create a lead magnet that offers tremendous value to your prospects for free
2.3.1.1. Lead magnet can be an E-book, free trials, PDF files, Templates etc. in exchange for contact information
2.3.2. Lead magnet must be offering value not fancy looking
2.3.3. Purpose of Lead Magnet is collecting leads
2.3.3.1. A lead is contact information of your target audience
2.4. Create Tripwire Offer
2.4.1. Tripwire offer is low cost item or service
2.4.1.1. It can range from INR 10 to INR 100 or even 500 depends on the core product cost
2.4.2. Its purpose is to convert collected leads into buyers
2.4.3. Create an irresistible offer for your prospects
2.5. Core Offer/Product
2.5.1. A core offer/product is your flagship product.
2.5.2. Offer your core products to the customers who already bought your tripwire offer as conversion rate is high due to the trust built.
2.6. Offer Profit Maximizers
2.6.1. Offer profit maximizers along with core products to maximize the revenue.
2.6.2. Profit maximizers are like ad ons that can be offered with main products
2.6.3. This is the step where you can have average value transaction per customer
2.7. Create Return Path
2.7.1. Have a return path so you can increase the transactions per customer
2.7.2. It helps in retargeting your customers with new products or offers
2.7.3. A return path is anything that brings your customer to your website to increase transactions