Lexi Cornwell About me.
by Lexi Cornwell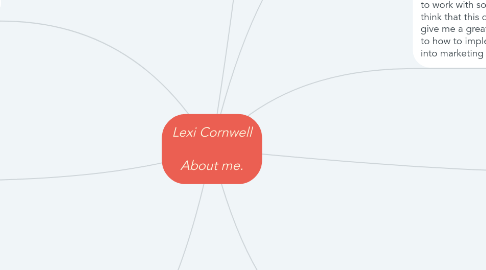 1. Education
1.1. Grand Valley State University
1.1.1. Undergraduate BBA in Marketing and minoring in Digital Studies Expected graduation: 2022
1.2. Lansing Community College
1.2.1. General Associate Degree Graduation: 2017
2. Born in Lansing, Michigan and moved to Grand Rapids for college in 2019.
3. To me, I think data is a the information that is collected and analyzed. And design is what is created to visually represent the data and what it means. I am a Marketing major and would like to work with social media, so I think that this course will certainly give me a great understanding as to how to implement these topics into marketing campaigns.
4. My hobbies include...
4.1. movies/tv shows
4.1.1. Quintin Tarantino movies, American Beauty, Queens Gambit, any period drama like Outlander and The Last Kingdom...and so on.
4.2. baking/cooking
4.2.1. Peanut butter cookies are my specialty, Vegetarian sweet potato enchiladas,
4.3. shopping
4.3.1. favorite stores include all of the expensive ones that I cannot afford of course, Aerie, Old Navy; the things I can afford.
4.4. playing sports (volleyball, softball)
4.4.1. I play volleyball through Grand Rapids Sports Social Club on Thursday nights
4.5. selling clothes online
4.5.1. currently, I sell second hand clothing on Vinted and Poshmark. Here's a link if you're interested in checking it out!
4.5.2. twicebutnicelc
5. Music for the soul
5.1. Gorillaz
5.2. Post Malone
5.3. Phantogram
5.4. Harry Styles
5.5. Pixies
5.6. Basement Jaxx
5.7. Just some of many...
6. Skills & qualities
6.1. after this semester, I'm hoping to have achieved skills in Illustrator
6.1.1. I am taking an Intro to Graphic Design course for my minor, I would like to be skilled in Adobe Illustrator once I am done.
6.2. Microsoft Office (Excel, Word)
6.2.1. I took an advanced Excel course at GV and I have had several courses where I have used word to write papers.
6.3. organization
6.3.1. I am a very organized person, I would like to eventually own a business that helps others get organized, liked Marie Kondo. I think that I would enjoy that.
7. Favorite styles, artists & designers
7.1. Bohemian
7.2. Minimalist
7.3. Vera Wang
7.4. Not too familiar with any popular/famous artists/designers...
8. Traits
8.1. tallish
8.2. blondish
8.3. loves cats
8.4. always wears comfortable clothing