Who is... Me? - Maxwell Ritchie
by Maxwell Ritchie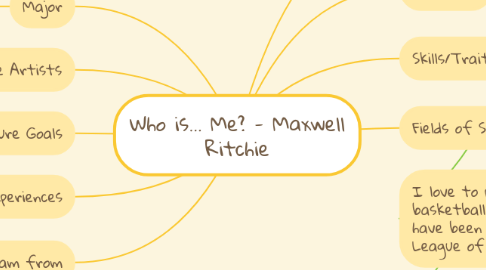 1. Hobbies
1.1. Basketball
1.1.1. Video Games
1.1.1.1. Photography
1.1.1.1.1. Going outside
2. Education
2.1. High School Diploma from Buchanan High School
3. Major
3.1. Multimedia Journalism
3.1.1. Minor: Digital Studies
4. Favorite Artists
4.1. Cuco
4.1.1. AJR
4.1.1.1. Coldplay
4.1.1.1.1. Studio Ghibli
5. Future Goals
5.1. Commentate an NBA game
6. Skills/Traits
6.1. Technology
6.1.1. Listening
6.1.1.1. Visual Learner
6.2. Good project partner
6.2.1. Adobe Premiere
7. Fields of Study
7.1. Video Production
7.1.1. Graphic Design
7.1.1.1. Sports Announcing
8. I love to play and watch basketball. A video game I have been enjoying recently is League of Legends.
9. I would love to be involved in sports broadcasting or video production for a career.
10. Experiences
10.1. Mackinac POD
10.1.1. TV Production Class
11. Where I am from
11.1. I am from Buchanan, a small town in Southwest Michigan. The only place I have known all my life!