LUST FOR GOLD, LUST FOR SILVER BY EDGAR GONGORA
by EDGAR JEOVANNY GONGORA NIETO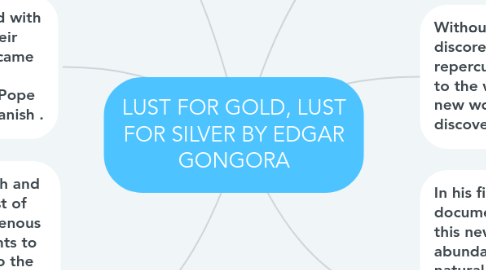 1. Christopher Columbus set out on his journey in search of the Indies or the new world in 1492, accepting the challenge of crossing the ocean, with its difficulties
2. Without knowing that he discored a new continent and the repercussions that it would bring to the whole world, creating a new world order and enormous discoveries .
3. In his first explorations he documented all the wealth of this new land with gold in abundance and ineshaustible natural sources, such as pearls, diamond, pepper, ginger, cloves, nutmeg and cinnamon were as appreciated as salt, to preserve the meat against spoilage and lost of flavor in winter and much more.
4. It was of great impact in its time and very important for the Spanish crown to be able to financetheir internal conflicts at the time FERNANDO DE ARAGON AND ISABEL DE CASTILLA the kings of the Spanish crown to win the war against the Arabs and expel the Musulims fron Spain.
5. As a nation wielding sword with the sign of the cross on their hilts. Queen ISABELLA became the patroness of the holy inquisition. Supported by Pope Alexander VI, who was Spanish .
6. Unleashing a wave of death and destrution for the conquest of America to force the indigenous people and all its inhabitants to enslave then and exploit to the maximum all their wealth due to the thirst for power, wealth and greed of man without importing the human rights of the male population , women and children were mercilessly massacred, exploited, tortured, abused, deceived in the name of the Spanish royalty, laterst becomes the crusades of holy war imposing their customs and religion.