WHAT IS GOVERNMENT?
by Apurva kumari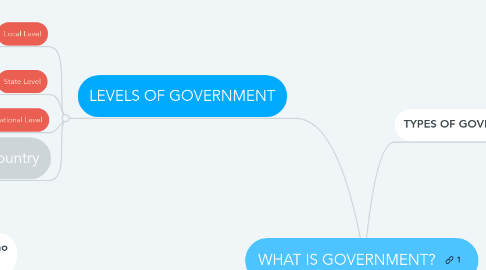 1. NEED OF GOVERNMENT
1.1. to make laws
1.2. to take actions on social issues
1.3. to maintain peace and relation with other countries
1.4. to enforce laws
1.5. protect country's boundaries
1.6. to provide aid during Natural Disaster
2. LEVELS OF GOVERNMENT
2.1. Local Level
2.1.1. covers villages, towns or locality
2.2. State Level
2.2.1. covers an entire state
2.3. National Level
2.4. relates to entire country
3. LAWS and the GOVERNMENT
3.1. power to take action against those who abide the rule
3.2. everyone has to follow
3.3. government has the power to make the law
4. TYPES OF GOVERNMENT
4.1. DEMOCRATIC
4.1.1. rule by the people
4.1.2. people are involved indirectly in the making of the rule
4.1.3. right to vote
4.1.4. freedom of speech
4.2. MONARCHY
4.2.1. rule by the king or queen
4.2.2. enforcement of any law at anytime
4.2.3. No defending of rule made by the monarch.
5. UNIVERSAL ADULT FRANCHISE
5.1. all adults has the right to vote