THE ACTORS OF THE BALTIC SEA
by Annaleena Vaher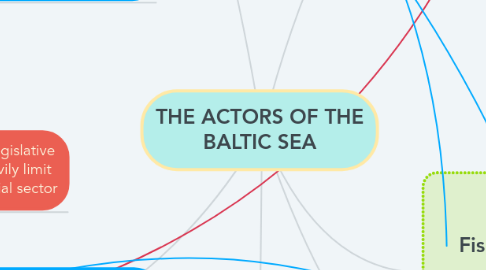 1. Scientists
1.1. To provide evidence-based and accurate data about the current and future stage of the Baltic Sea through country-based as well as interregional research projects in order to maintain biodiversity.
1.1.1. To understand how humans impact the marine ecosystem and which human activities should be reduced or enhanced
1.1.2. To collect data and analyse the patterns and interaction in marine life
1.1.3. To create awareness about the stage of the sea to wider public and politicians
2. Fishermen
2.1. To continue filling the quotas and catch just enough fish that ensures a long-term provision and a stable income.
2.1.1. To protect the sea from oil spills that would harm fish stocks and cause stricter regulations on quotas.
2.1.2. To continue fishing for a living and to keep the traditions and culture of fishing alive
3. Industrial sector
3.1. To use the maximum potential of resources available in order to increase the economic gain, provide services for the developing world, and keep strong trading relationships.
3.1.1. To use the economic potential of the Baltic Sea
3.1.2. To keep up the competitive trade agreements and be connected with other countries
3.1.3. To increase the prosperity of the Baltic Sea surrounding countries
4. Residents
4.1. To keep the sea a clean and peaceful place accessible for the people to recharge batteries as well as suitable for the marine organisms
4.1.1. To maintain a sense of place and belonging: the identity of Baltic Sea people
4.1.2. To be a suitable and a safe home for people but also for the marine habitats
5. (Inter)governmental
5.1. To collaboratively reduce unsustainable human pressures and maintain biodiversity in the Baltic Sea by working tightly with the scientists and the policy to introduce a legal framework and achieve the goals.
5.1.1. To protect the Baltic Sea's ecosystems and finding the most sustainable strategies for the economic potential as well as securing the social well-being (long term oriented Marine Spatial Planning)
5.1.2. To bridge the gap between scientists and policy makers
5.1.3. To ensure the collaboration between all of the Baltic Sea states
6. History and Culture
6.1. To protect and document the Baltic Sea in order to maintain its essential role in Estonian traditions and to maintain the cultural identity for the present and future generations.
6.1.1. To maintain the accessibility and closeness of the Baltic Sea to Estonians
6.1.2. To keep the traditions and heritage around the sea as part of people's identities
6.1.3. To document the myths, art, stories, and legends around the sea
6.1.4. To protect the sea that it can be a pleasant environment for future generations
6.1.5. To sustain a healthy marine ecosystem and keep traditional fishing and sailing culture alive
7. Both Actors are interested in marine resources, causing an increased human activity
8. Scientists are the main source of data that the policy-makers depend upon, strong relations = stronger management plan
9. Fishermen and History and Culture are tightly connected as they share an interest to keep traditions alive
10. In a democratic country like Estonia, residents have the power to protest against government decisions hence to influence the government
11. History and Culture has created the cultural identity and sense of place that the Residents value
12. A potential for conflicts as scientists provide evidence of harmful human activities that may reduce the values of the Industrial sector
13. A potential for conflict as residents will not improve the activities of the industrial sector e.g windparks will change the view
14. Potential conflict: none of the core values match, History and Culture wants to restore the past while Industrial sector is thinking about the future
15. RED: An area of conflict
16. BLUE: A matching interest/value
17. Potential conflict: legislative restrictions can heavily limit the plans of Industrial sector