THE PHILIPPINE LAND FORMS
by Imee lumaad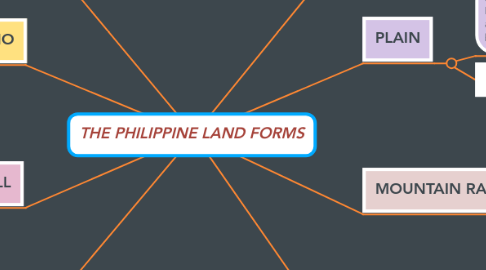 1. BATAAN PENINSULA
2. MOUNTAIN
2.1. is a place that is much higher than the land around it. Some mountains very steep and around to climb.
2.2. MT. APO IN DAVAO
2.2.1. MT. DULANG IN BUKIDNON
2.2.1.1. MT. PINATUBO
3. VOLCANO
3.1. a landform that has a small opening on top where hots rocks or lava come out when it errupts.
3.2. MAYON VOLCANO
4. PLAIN
4.1. is low, flat and wide landform. It has many towns and cities and it is where most people build their houses.
4.2. Mallig Plains
5. HILL
5.1. is a lower and smaller than a mountain. It is easier to climb that a mountain.
5.2. CHOCOLATE HILLS
5.2.1. HIMONTOGAN HILLS
6. MOUNTAIN RANGES
6.1. is a chain of mountains bondered by highlands or seperated from other mountain by passes or valleys.
6.2. CARABALLO MOUNTAINS
6.2.1. CENTRAL PANAY
6.2.1.1. DAGUMA MOUNTAIN RANGE
7. PENINSULA
7.1. is a form of land that sticks out some of its part into a body of water and hence getting sorrounded by water on three side.
8. VALLEY
8.1. a long depression on a land, between two higher parts which might be a hills or a mountain.
8.2. CAGAYAN VALLEY
8.2.1. TRINIDAD VALLEY
8.2.1.1. ALLA VALLEY IN SOUTH COTABATO