Ranch Category (The Ranch at Emerald Valley)
by Julexi Vacacela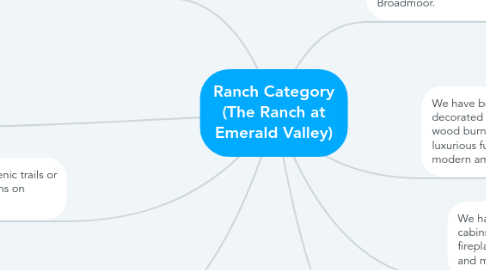 1. It is unique retreat offering refined luxury with rustic charm and inspiration from a wild enclave
2. We have beautifully decorated cabins with wood burning fireplaces, luxurious furnishings and modern amenities
3. We have beautifully decorated cabins with wood burning fireplaces, luxurious furnishings, and modern amenities
4. also for fly fishing in the pristine mountain lakes.
5. Walk and bike on scenic trails or explore the mountains on horseback.
6. the elevated place this unique all-inclusive refuge beyond its 7,200 feet of altitude
7. includes championship golf, a five-star spa, tennis, shopping, swimming pools. , restaurants
8. experiences are matched by the incomparable luxury and impeccable service of The Broadmoor.