TECHNOLOGY
by Ruqaya Obada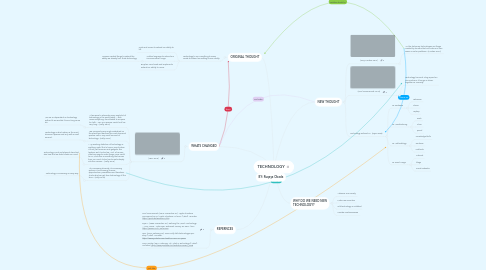 1. ORIGINAL THOUGHT
1.1. Technology to me is anything humans create to extend an existing human ability.
1.1.1. Carts and cranes to extend our ability to lift.
1.1.2. Written language to extend our communication range.
1.1.2.1. Humans created things to extend the ability we already had, that's technology.
1.1.3. Bicycles, cars, boats and airplanes to extend our ability to move.
2. NEW THOUGHT
2.1. (Tony Montez, 2014)
2.1.1. "In the dictionary technologies are things created by humans that can make our lives easier or solve problems."(Montez, 2014)
2.2. (Cool Commercials, 2019)
2.2.1. Technology has such a big impact on our emotions. It brings us closer together as a society.
2.3. Technology Defined 4x (Dyer, 2009)
2.3.1. as Hardware
2.3.1.1. Television
2.3.1.2. Phone
2.3.1.3. Laptop
2.3.2. as Manufacturing
2.3.2.1. Desk
2.3.2.2. Chair
2.3.2.3. pencil
2.3.3. as Methodology
2.3.3.1. Knowledge/Skills
2.3.3.2. Routines
2.3.3.3. methods
2.3.4. as Social Usage
2.3.4.1. Internet
2.3.4.2. blogs
2.3.4.3. social networks
3. REFERNCES
3.1. Cool Commercials. (2019, December 27). Apple Christmas Commercial 2019 | Apple Christmas Ad 2019 [Video]. YouTube. https://youtu.be/Rx0om7rWhl0 Dyer, J. (2009, December 27). Defining the Word "Technology" ... Four Times - John Dyer. Retrieved January 30, 2021, from https://perma.cc/FV4Q-FNNC TED. (2010, February 22). Kevin Kelly tells technology's epic story [Video]. YouTube. https://www.youtube.com/watch?v=GS1xL1qcBa4 Tony Montez. (2014, February 16). What is Technology? [Video]. YouTube. https://www.youtube.com/watch?v=Giiz81_uzK8
4. WHATS CHANGED
4.1. (TED, 2010)
4.1.1. "If we were to eliminate every single bit of technology in the world today -- and I mean everything, from blades to scrapers to cloth -- we, as a species, would not live very long." (Kelly, 2010)
4.1.1.1. We are so dependent on technology without it we wouldn't live as long as we do.
4.1.2. "we occupied every single watershed on the planet and became the most dominant species, with a very small amount of technology" (Kelly, 2010)
4.1.2.1. Technology is what makes us the most dominant species and only with a small amount.
4.1.3. " My working definition of technology is: anything useful that a human mind makes. It's not just hammers and gadgets, like laptops. But it's also law. And, of course, cities are ways to make things more useful to us. While this is something that comes from our mind, it also has its roots deeply into the cosmos." (Kelly, 2010)
4.1.3.1. Technology is not just physical items but also laws that we make inside our mind.
4.1.4. "It's increasing diversity, it's increasing options, it's increasing choices, opportunities, possibilities and freedoms. That's what we get from technology all the time." (Kelly, 2010)
4.1.4.1. Technology is increasing in every way.
5. BY: Ruqaya Obada
6. WHY DO WE NEED NEW TECHNOLOGY?
6.1. Advance as a society
6.2. Make new invention
6.3. Old technology is outdated
6.4. Creates new businesses