How to target lower tier cities in China
by Kaye Cheung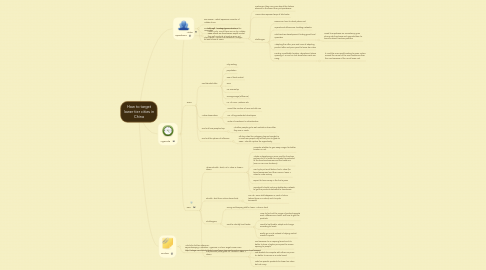 1. Notes
1.1. Article for further reference: Beyond Beijing: Marketers, Agencies in China Target Lower Tiers http://adage.com/article/global-news/lower-tiers-center-action-agencies-china/235269/
2. Speakers
2.1. Tom Brown - Retail Expansion Director of Adidas China
2.2. Corbett Wall - Managing Parner at CW Associates
2.3. Alex Coidan - Senior Site Research Manager for East China at Tesco
3. Agenda
3.1. Adidas
3.1.1. Through franchise (7000+ stores in the nation, only 100 of them are run by Adidas, 6000 others are franchisees, simple model, they sell products at markup since 97)
3.1.1.1. Customers: they care more about the fashion element to the brand than just sportswear
3.1.1.2. 1,000 cities represent 80% of total sales
3.1.1.3. Challenges
3.1.1.3.1. Resources: time to check places out
3.1.1.3.2. Operational efficiencies: building networks
3.1.1.3.3. Sub-franchise development: finding good local operaters
3.1.1.3.4. Adapting the offer: pros and cons of adapting product offer and price point to lower tier cities
3.1.1.3.5. Finding a profitable location: department stores opening in T5 and T6, but street store rents are rising
3.2. Tesco
3.2.1. Use blended data
3.2.1.1. city ranking
3.2.1.2. population
3.2.1.3. size of food market
3.2.1.4. GDP
3.2.1.5. car ownership
3.2.1.6. average wage (affluence)
3.2.1.7. no. of KFCs, Watsons etc.
3.2.2. Active observation
3.2.2.1. Count the number of new and old cars
3.2.2.2. No. of big residential developers
3.2.2.3. Scale of investment in infrastructure
3.2.3. Find out how people shop
3.2.3.1. Whether people go to wet markets or how often they use IC cards
3.2.4. Find out the sphere of influence
3.2.4.1. 6th tier cities like Jishigang (around Ningbo) is a small 80K-people city but will plan to grow to 200K-- should capture the opportunity
3.3. Q&A
3.3.1. Where should I start? 1st T cities or lower T cities?
3.3.1.1. Consider whether to give away margin for better location or not
3.3.1.2. Adidas is developing a score card for franchise partners to fill in order to evaluate the potential of the franchise business and the trade mix (core or non-core location?)
3.3.1.3. Can try to put small bets in first T cities (for brand awareness) and then more in lower T cities to make money
3.3.1.4. Expect to lose money in the first 5 years
3.3.1.5. Important to build a strong distribution network to get the products delivered to franchisees
3.3.2. Should I start from online stores first?
3.3.2.1. Can do. Tesco did babywear in West of China (where there is no store) and it's quite successful
3.3.3. Challenges?
3.3.3.1. Hiring and keeping staff in lower T cities is hard
3.3.3.2. Hard to identify local tastes
3.3.3.2.1. Have to find out the range of products people want, differences in taste, and how to get the products
3.3.3.2.2. Need to be flexible, adapt and change according to locals
3.3.3.2.3. Really go on site instead of relying market research reports
3.3.4. Is a premium price good for Adidas in lower T cities?
3.3.4.1. Yes, because it's an aspiring brand and it's better to have a higher price point to remain aspiring to people
3.3.4.2. Not feasible to compete with others on price, it's better to remain as a niche brand
3.3.4.3. Nike has specific products for lower tier cities but not many