The idea that poverty and rising inequality are consequences of America's failing education system is false.
by JACEN RATHKE-BUELOW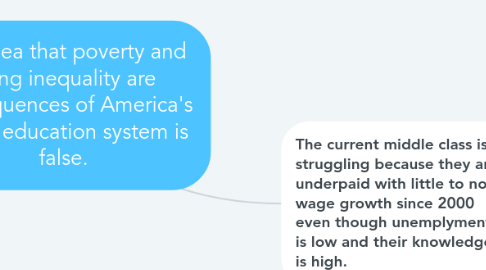 1. The current middle class is struggling because they are underpaid with little to no wage growth since 2000 even though unemplyment is low and their knowledge is high.
1.1. The education system cannot compensate for the economic system
1.1.1. Student Acheivement is driven by household income
1.1.1.1. If hosuehold income is low the chance that they will have to live in a chaotic environment or unsafe envronment is higher which affects their education
1.1.2. The education system is a product of a thriving middle class not the other way around
1.2. There is a skills gap but it does not match with the inequality gap since the 1970s where the middle class was at its best
1.2.1. Even though more Americans have gotten higher education, wages have only rose for the top 1%.
1.2.1.1. The proportion of Americans with a college education does not fit with what is needed in the current economy
1.3. The job sectors that are the lowest paying ones and generally do not require a college education are increasing
1.3.1. Even though jobs in sectors that do not require college have increased, the number of Americans getting college degrees have gone up
1.3.2. Applicants for these lower paying jobs are becoming harder to find, yet the wages for these positions are not increasing