COMMUNICATION COMPETENCE
by Ana Gonzalez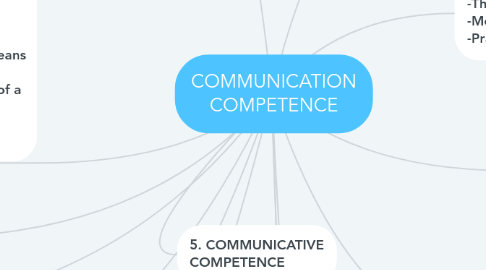 1. 1. CONCEPT: to emphasize that the knowledge of grammatical rules is not sufficient for speaking a lan- guage and for communicating.
2. 2. RELEVANCE: -Theoretical relevance -Methodological relevance -Practical relevance
3. 3. HISTORICAL OVERVIEW: The concept of communicative competence began in the 1960s as a counter-movement to the so-called "linguistic competence" introduced by the structural linguist Noam Chomsky (1965).
4. 4. COMMUNICATION: -Information transmission and feedback - Informational medium - Referential knowledge - Partner knowledge and mindreading - Physical and social situation
5. 5. COMMUNICATIVE COMPETENCE
6. 6. PROCESSES IMPLYING COMMUNICATIVE
7. 7- SETTINGS COMMUNICATIVE COMPETENCE: assessments of the situation form the basis for selecting appropriate and effective means of communication. Perceptions of the intimacy of a situation differ between communicators and less competent ones.
8. 8. DEVELOPMENT OF COMMUNICATIVE COMPETENCE: The individual development of communicative competence is discussed in order to elucidate controversial or outstanding issues, and to provide a touchstone for theoretical claims.
9. 5.1 communication skills: nonverbal communication skills, discourse and conversation skills...
10. 5.2 effectivennes: effectiveness derives from control and is defined as successful goal achiement or task accomplishment
11. 5.3 appropriateness: competent communication should be judged as appropiate according to social factors.
12. 6.1 message prduction: Conveying intentions and accomplishing goals
13. 6.2 Message reception: inferring intentions; The cognitive processes involved in communicative competence consist of inferring the intentions of the speaker.
14. 6.3 Underlying knowledge and representations: Communicative competence is based on a number of representations and knowledge structures underlying communication.
15. 6.4 Generating and interpreting nonverbal behaviors: In face-to-face communication, nonverbal behaviors play an important role in communication and the ability to generate.